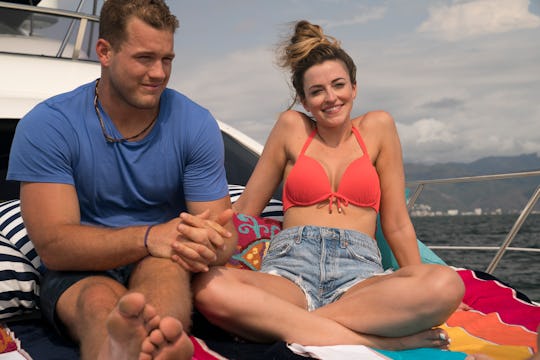 Paul Hebert/ABC
Colton Has A Second Chance At Love After Ditching 'Bachelor In Paradise'
When Colton left Becca Kufrin's season of The Bachelorette, he seemed heartbroken after not being chosen to go on. But on Bachelor in Paradise Season 5, he managed to find the start of something big with Tia, who he'd already known outside of the show. Things seemed to be going their way until he realized that he couldn't see a future with Tia. He made the decision to leave the show early, but is Colton single after Bachelor in Paradise? He's actually about to start a whole new chapter in his journey to find love in Bachelor Nation so right now, he's probably as single as it gets.
Tuesday morning, Good Morning America announced that Colton is the next Bachelor. I'm not sure if he knew this during his time on BiP or if the offer came after he and Tia broke up for what will probably be the last time, but since The Bachelor Season 23 hasn't even started filming yet and Colton said on Good Morning America that he's ready to find his future wife, it's safe to say that he's single now.
Unlike much of Tia and Colton's relationship leading up to this point, their breakup wasn't full of drama or accusations. Instead, Colton told People, he woke up in Paradise and realized that he no longer saw a future with Tia. He then told Tia as much himself, before their relationship could any further and before he could string her along, so to speak. Now, however, a couple of months after the tear-filled breakup, Colton is about to be the next Bachelor.
In the past couple of years, most of Colton's relationships have been public, for the most part. Before going on Becca's season of The Bachelorette, Colton dated Olympic gold medalist Aly Raisman. Although there are no photos of Raisman on Colton's social media, there were photos of the pair in public during their relationship. But in June 2017, the couple broke up, reportedly due to the distance between them as Colton trained in Colorado and Raisman trained in Massachusetts.
At the beginning of 2018, Colton and Tia connected on social media while Arie Luyendyk Jr.'s season of The Bachelor aired. Colton noticed Tia on the show and followed her on Instagram. She then "liked" one of his posts, and from there, they continued to get to know each other. Before Becca's season of The Bachelorette, they went away together for a weekend,. But in the spring of 2018, Colton went on The Bachelorette to potentially fall in love and get engaged.
As fans know, things didn't exactly work out that way and he then went on BiP Season 5, where he reconnected with Tia. In a way, his romantic history of the past couple of years is easy to follow since most of it was in the public eye. So unless Colton somehow secretly dated someone else between the time he left BiP and now, he's single and ready for life as the next Bachelor.
When Colton appeared on Good Morning America Tuesday morning, he said that his goal as the Bachelor is to get engaged, get married, and start his life with someone. "That's what I'm looking forward to the most," he said, of proposing to a woman he falls in love with. "Being engaged and then getting married shortly after that." Despite most of his romantic life being in the public eye as of late, he still seems as hopeful as ever about finding love on TV. So if this is what it takes, then let's hope that for Colton, the third time's the charm.