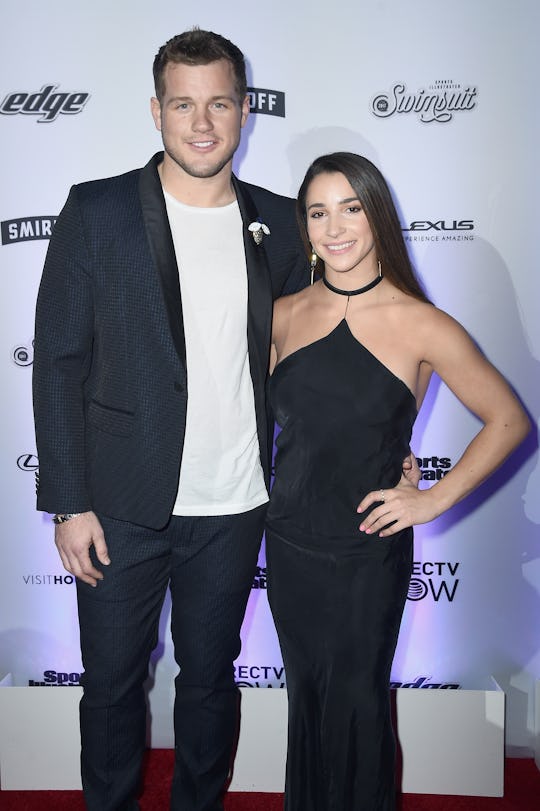 Nicholas Hunt/Getty Images Entertainment/Getty Images
Here's The Timeline Of Colton From 'The Bachelorette' & Aly Raisman's Relationship
Becca Kufrin has whittled down her contestant pool with lightning speed this season on The Bachelorette. And Colton Underwood, a former tight end for the Oakland Raiders, is still a frontrunner after enduring bit of a rough patch. There was some initial hesitation on her part when he revealed that he used to date Tia, a fellow alum from Arie's season of The Bachelor and good friend of Becca's. But Tia isn't Colton's only high-profile ex. He also famously courted an Olympic gymnast, which may have fans wondering: when did Colton and Aly Raisman date? Their fling was a relatively short one, but it was clearly pretty impactful for Colton.
The pair first met in August 2016, according to People, when Colton's former teammate Andrew East introduced them. East is married to Shawn Johnson, another gold medal-winning Olympic gymnast from the 2008 U.S. team. The foursome went on a double date and five months later, Colton and Raisman made their first public appearance as a couple on the red carpet of the Sports Illustrated Sportsperson of the Year Ceremony. They then appeared on an even bigger stage a month later at the 2017 Golden Globe Awards. By June of that year, however, things appeared to have fizzed out, with Colton telling The Lincoln Journal Star that the pair had broken up due to the pressures of long-distance and their grueling travel schedules.
Said Colton last summer:
We're taking a break right now. We're still good friends and talk, but all that travel had been a nightmare. It ended fine. We're in a good place... It put a lot of pressure on us, sure, but we had fun with it. A lot of fun date nights. Those six months were great.
Of course, that "break" turned out to be indefinite and now he's on The Bachelorette vying for Becca's heart. She really seems to like him, despite initial reservations over his past with Tia. Becca reasonably inferred that Colton applied to be on The Bachelorette thinking that Tia was going to be the star this season. But after discussing the situation one-on-one with both Colton and Tia, Becca decided she felt safe enough to go for it. It's still unclear whether or not she knows that Colton also dated Raisman.
During Colton and Becca's first one-on-one date, he revealed over dinner that he's only been in love once, that it was a heartbreaking experience, and that, as a result, he doesn't say I love you very easily. (Spoiler alert: he promptly told Becca he was falling in love with her.)
"I said 'I love you' in the beginning, very quick, and I didn't get it back," Colton said. "And I've only been in love once, so it was hard for me, because you don't feel like you're enough. Or you feel like you're missing something."
I don't know for certain if he was talking about Raisman here, but it definitely seems like a possibility.
"She broke up with me. I think that's sort of why, for me, being in love has confusion and pain associated with it. I don't want you to think just because I've only been in love once that it's in any way a bad thing," he added. "For me, the word love, to me, means so much just because it's only happened once and I hold it so high that I don't just throw it out there. And I don't use even falling in love lightly and I want you to know that."
Raisman has yet to speak out on her ex's participation in The Bachelorette but hopefully, everyone has genuinely moved on from all previous relationships, paving the way for Becca (remember Becca?) to find a meaningful connection.