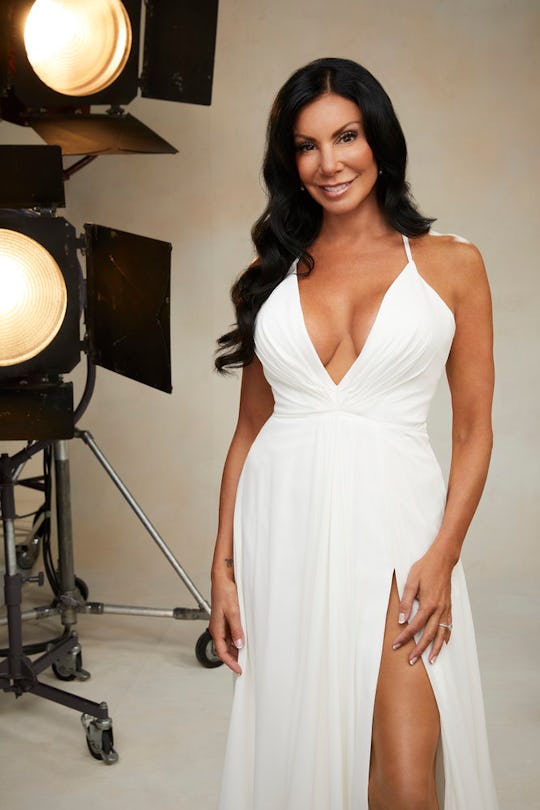 Rodolfo Martinez/Bravo
Danielle Staub Has Had Marriage Problems After 'RHONJ'
One of the unavoidable things that come along with being a reality TV star is having the world see all of your breakups and makeups throughout the years. And fans of The Real Housewives of New Jersey have seen their fare share of Danielle Staub's. It seemed like she found love again earlier this year, however, so is Danielle Staub married? The RHONJ star has had some marriage troubles in the past and, apparently, she's had some new ones more recently.
People reported back in July that just two months after Danielle's wedding to Marty Caffrey, they were having some problems. At the time, a rep for Danielle told the news outlet, "Danielle is having some difficulties with her marriage right now and is hoping everything will work out." But just a month after, sources told People that the couple had allegedly divorced. While at the time, a rep for Danielle told the magazine that "Danielle has not received any filing," Us Weekly confirmed in September that the couple had started divorce proceedings.
While it's unclear exactly what went wrong between the newlyweds, Us Weekly reported in the same article that there was a string of incidents that led up to the official filing. Danielle allegedly found Marty in her garage, appearing to be under the influence of alcohol, and had allegedly taken some of her belongings with him in his car when he left. This prompted Danielle to file a temporary restraining order against her husband and he later filed his own against her due to alleged aggressive behavior on her part. Things went from bad to worse and, despite the couple seeming like they had it together last season on RHONJ, they seem to be over for good now.
Although the issues between the couple seem more recent, Danielle said on The Wendy Williams Show that she saw warning signs long before divorce was on the table. "It's funny how I saw certain things happening, but you just believe, especially with the perception around us, getting engaged would make it better… getting married would make it better," she said. "It doesn't get better, ladies. If it's falling apart, it's broken. You can't fix that."
She did reveal that there may have been some alcohol-related issues that led to the wedge that eventually drove them apart. "I'm to blame for it as well, but I feel like I'm always the person who wants to fix people and it's not fixable," she added.
Danielle and Marty got married last spring with plenty of Danielle's RHONJ BFFs in attendance. And after being engaged 20 times overall (!), Danielle seemed like she was ready to be in it for the long haul, especially since she'd already known Marty for several years before he proposed. Fellow RHONJ housewife Teresa Giudice, who was also Danielle's matron of honor, told BravoTV.com that although there was "a little bit of drama," she had a good time and loved the wedding in general. So it's safe to say that Danielle's closest friends didn't even see the warning signs that might have been there from the beginning.
It seems like the split is probably best for both Danielle and Marty right now, and given that most of the relationship drama occurred over the summer, there's a chance that some of that might spill into RHONJ Season 9. Much like fans saw Danielle fall in love and prepare for her nuptials, they may see at least some part of the downfall of her marriage. And right now, she's definitely single and ready to finalize her divorce.