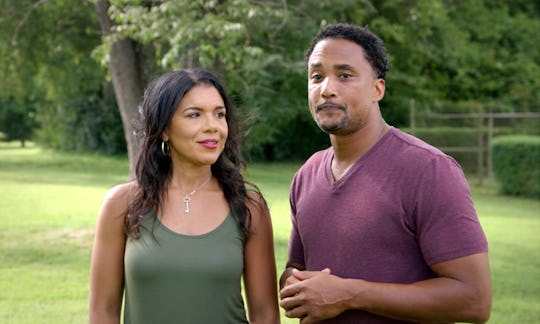 HGTV
Everything 'Flip Or Flop Nashville' Fans Need To Know About DeRon Jenkins' Love Life
HGTV's popular and long running series Flip or Flop has spawned a handful of successful spin-offs, including the more recent Flip or Flop Nashville, which garnered a lot of attention before it even premiered, thanks to the dynamic team at the center of it all. Page Turner and DeRon Jenkins used to be a couple, but now they're exes working together to flip and sell homes on their show. So naturally, fans may find themselves wondering: is DeRon Jenkins single? The Flip or Flop Nashville star works and films with his ex-girlfriend, so any new significant other would have to be OK with that working relationship, however it doesn't look like he's currently seeing anyone else at the moment.
In January, Jenkins and Turner spoke to Us Weekly about their new show and their past relationship. Although they dated on and off years ago and took a break after their final breakup to regroup on their own, they remained close friends throughout the years. And joining forces for Flip or Flop Nashville seemed like a logical move for them professionally, but don't bank on that on-screen chemistry leading to a relationship anytime soon. "I think we're in such a great place right now. We work really well together," Turner told the outlet, and both are currently single.
Long before Jenkins became a house flipper and started his own business, DY Constructions Inc. & DY Properties LLC., he played football in college at the University of Tennessee, Knoxville. He then went on to play professionally for the NFL for a few different teams, including the Baltimore Ravens, San Diego Chargers, and Tennessee Titans. He started his construction business in 2003, but he was still playing football for the Austin Wranglers, an arena football team, in 2004 and then the Nashville Kats, another arena football team, in 2005.
During that time, he became a dad to his daughter who recently went off to college, according to his Instagram, but it's unclear if he was ever married or not. Regardless, as Us Weekly reported in the interview, Jenkins is currently single, which is probably why he has so much free time to dedicate to his business and now, to Flip or Flop Nashville.
Anyone who watches the show, which was just renewed for a second season on HGTV, knows that Turner and Jenkins have a unique sort of chemistry that can only come with two people who know each other really well. That being said, while fans may want the two currently single stars of Flip or Flop Nashville to get back together to have more than just a working relationship, it probably isn't going to happen anytime soon, if at all.
"Our relationship changed, and we didn't work as well together in that capacity," Turner told HGTV of working with Jenkins while they were dating years ago. "But we still worked really well together as far as building homes and selling homes and rehabbing homes went. So we continued our working relationship." But, Turner also said, having been in a relationship prior to the professional one they now share, it gives them a leg-up on one of the other renovation teams out there. "We work off of each other really well. I know exactly what makes him tick, he knows exactly what makes me tick and we get all the work done."
Jenkins may be single right now and focusing on being a dad and one of the stars of Flip or Flop Nashville, but until he starts dating someone else, fans can continue to enjoy the chemistry he and ex-girlfriend Turner share on-screen.
Check out Romper's new video series, Romper's Doula Diaries:
Watch full episodes of Romper's Doula Diaries on Facebook Watch.