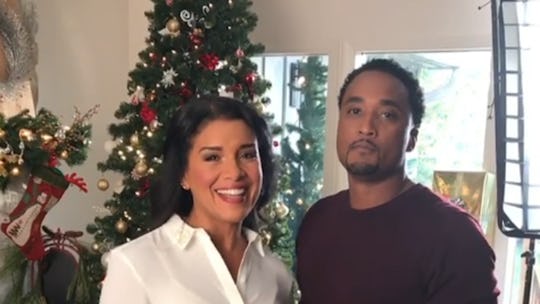 HGTV
DeRon Jenkins From 'Flip Or Flop Nashville' Found Financial Success Both On & Off The Football Field
There's a reason people get into the home renovation business and don't tell me it's just because they've developed an attachment to shiplap. DeRon Jenkins of Flip or Flop Nashville actually began his career after college as an NFL player, but now he's a construction business owner and the co-star to the newest home renovation show on HGTV. So what is DeRon Jenkins' net worth? The Flip or Flop Nashville star is already successful, so it's more than likely that he's done well for himself.
While Jenkins' actual confirmed net worth isn't available anywhere at the moment, he does have a couple potential streams of revenue that allowed him to make a comfortable life for himself even before he was given the opportunity to star in the show with long-time ex-girlfriend Page Turner. From 1996-2001, Jenkins was a quarterback for the Baltimore Ravens and although he retired from the sport after his time playing for the team, if he took advantage of the NFL pension program, he should still be collecting income from that.
While the program is still struggling to be 100 percent financed, in 2014, the average annual pension for a former NFL player was $43,000. In Jenkins' case, according to Indeed.com, the average annual salary for a construction manager in the United States is right around $84,000. Since Jenkins owns his own company, DY Construction Inc., and potentially collects benefits from the NFL, he's likely done very well or himself over the past several years.
Then again, NetWorthPost.com lists Jenkins' net worth at $200,000, but doesn't provide many other details, so it's safe to say that in either instance, he's worked hard for the money he has coming in. He and Turner were originally set to star in a new HGTV series called Joined at the Flip, but it soon became a spin-off of the popular and highly successful Flip or Flop home renovation series. But it's all worked out for the best.
Although Jenkins and Turner have a somewhat complicated working relationship, since they were a couple once upon a time, they seem to work well together in a professional atmosphere. Luckily they can also laugh and joke around together while finding and flipping homes for profit. We all know and love the chemistry between Chip and Joanna Gaines of course, but there's also something fun and endearing about what Jenkins and Turner have between them.
According to his LinkedIn profile, Jenkins attended the University of Tennessee, Knoxville from 1992-1996 and during that time played football, which earned him a spot in the NFL for several years following graduation. When it came time to purchase his first home, however, Jenkins seemed to realize that renovating it was a project he was more than willing to take on all on his own.
Even though he didn't quite know what he was doing at the time, he told HGTV, he was determined to renovate his first home, and from there, his passion grew. And although he was still playing in the NFL at the time, he took on what would be a first of many projects. "I just came up with some ideas of how to finish out the basement and add a bathroom, and I added a room for a pool table," he said. "Before I knew it, I renovated this home. And so that was always in my back pocket."
It wasn't long after he started his business that he met Turner, who was working as a realtor as she still does in the present day, at one of the homes she'd listed and they two hit it off. Unfortunately, their relationship ended after five or so years together, but they were able to reconnect and bring together their shared interest in the business of flipping houses in order to star in Flip or Flop Nashville together.
Jenkins has clearly done well for himself over the years, financially speaking, but if the Flip or Flop spin-off really takes off, he will no doubt be looking at even more success thanks to his chosen profession.
Check out Romper's new video series, Romper's Doula Diaries:
Watch full episodes of Romper's Doula Diaries on Facebook Watch.