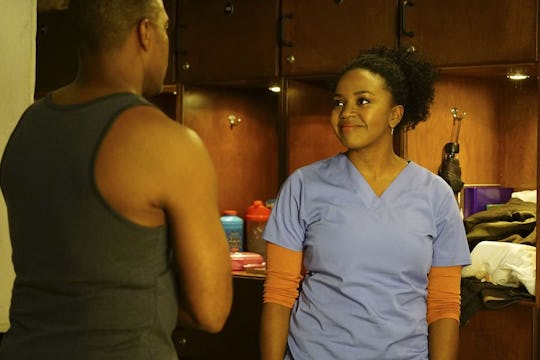 Richard Cartwright/ABC
Edwards Will Be Scrubbing Out Of 'Grey's Anatomy'
There have been rumors circulating for a while now about Jerrika Hinton's exit from Grey's Anatomy, but now that the promos for Episode 23 "True Colors" show a missing Edwards and a patient who's also on the M.I.A. list, her character's life could be in real danger. So is Edwards leaving Grey's Anatomy? Jerrika Hinton has been part of the show since Season 9 and just as Edwards has worked her way up from an intern, Hinton has worked her way up to a series regular — and in a pretty important role as one of the more prominent doctors.
But in January, TVLine reported that Season 13 would be Hinton's last as Edwards and now that it looks like she's going to be in harm's way this week, this could very well be the start of her departure. If it wasn't enough that in the most recent episode she was suspended from operating room duties and sentenced to counseling after throwing an iPad at the head of a patient's father (even though he kind of deserved it), now Grey's Anatomy has given further proof that Edwards' time on the show is coming to a close.
So is Edwards leaving Grey's Anatomy then? As sad as it is to think of having a big character death, the promos for Thursday's episode — which claims that jaws will be dropping — don't make it any easier to believe anything else. But the bigger question now is how Edwards will leave.
Obviously Grey's Anatomy has never been afraid to kill off big characters, but they've never shied away from the old dramatic exit either. I'm looking at you, Cristina and Izzie. So if the escaped patient doesn't kill Edwards as the promos would have fans believe, then it might be enough to drive the character away for good.
In real life, Hinton was cast in the upcoming 10-episode HBO drama Here, Now. Whether that goes beyond the 10-episode order remains to be seen, but if Hinton is part of the cast, her free time for Grey's Anatomy might be dwindling down considerably, making now the best time to have Edwards leave.
Given Hinton's real-life aspirations to move on to other projects and the fact that Edwards' exit on the show has begun to be hinted at more and more lately, Edwards will likely be leaving sooner rather than later. But whether that's in a body bag or by choice because of the increasing lack of safety at Grey Sloan Memorial Hospital isn't clear quite yet.
If Edwards does leave for good, it will definitely be a somber way to wrap up a season full of some epic patients of the week and some not-so-epic will they/won't they shenanigans from Meredith and Riggs.