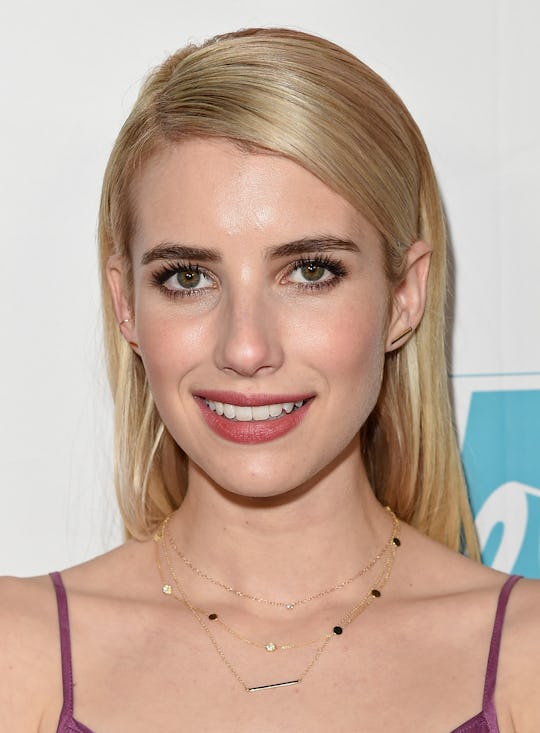 Jason Merritt/Getty Images Entertainment/Getty Images
Is Emma Roberts In 'AHS: Roanoke'? The Actress Is Noticeably Absent
So far on this season of American Horror Story, we've seen a few of the regulars, like Sarah Paulson, Kathy Bates, and Lady Gaga, but where is everyone else? Evan Peters has been a constant on AHS and even Emma Roberts is someone we tend to look forward to, but while we've seen Peters's name in the credits, is Emma Roberts in AHS Season 6? There hasn't been much mention of the actress, who was a regular in Season 3 and Season 4 of AHS, but in those seasons, she played her parts well and seemed to blend in with the rest of the cast, so is she just going to show up later on down the line? There have only been three episodes so far to AHS Season 6.
In Season 3 of AHS, Roberts played Madison Montgomery, a spoiled former child star who also happens to be telekinetic and scary similar to Roberts's Chanel Oberlin from Scream Queens. Then, in Season 4 of AHS, Roberts played Maggie Esmerelda, who started off as a kind of awful character meant to steal some of the freaks for a museum, but who ended up trying to redeem herself in the end. There could easily be a place for Roberts in AHS Season 6 and the actress said it herself that she wanted to be a part of the new season, as scheduling conflicts had prevented of her from being involved in last season.
Roberts told Yahoo News last year that for the next season (Season 6) she definitely wanted to be brought on and work with Lady Gaga. Who doesn't, though? Still, there have been no hints or even Roberts's name in the credits, unlike that of Peters who has yet to show his face but as been credited for each episode so far this season. But there is room for Roberts this season.
She Could Play Another Important Colonist
So far, we've seen Kathy Bates as The Butcher and Wes Bentley as her son, Ambrose, but there are other important colonists from the story of Roanoke. The story is that the governor, John White, left the colony to get supplies in England and left behind a wife, a daughter, and a granddaughter, Virginia Dare, who was the first baby to be born since they'd arrived in America. Roberts could play a version of his daughter or granddaughter, since Bates seems to be playing the wife he left behind.
She Might Show Up In The Second Half
Ryan Murphy has made is clear that for Season 6 of AHS, the story will be broken into three different parts, in a way. He told Vanity Fair that the season is going to take plenty of unexpected turns and co-creator Brad Falchuk added that episodes one through five are one entity, as are six through nine, leaving episode 10 as "it's own thing." So right now, Roberts might not fit in organically, but there are apparently two more acts to the season, in addition to the first five episodes.
There Is Still A Whole Crew We Haven't Seen
Since Episode 3, there have been tons of questions about the crew of My Roanoke Nightmare, the documentary within AHS Season 6. For the first time, we heard a cameraman's voice as Lee struggled to tell her story, and we even saw a crew member standing near her to give her water. While there has been plenty of speculation about who the voice behind the camera was, it also goes to show that there are plenty of other crew members who might play larger roles later on. Roberts might not be "extra" material, but no one ever said that the crew on AHS Season 6 are extra in any way.
Don't Count Out A Crossover
Not with Scream Queens, but maybe a crossover with a past Season of AHS. When the medium, Cricket Marlow, made an appearance to help Lee, Shelby, and Matt find Flora, it was hard not to recognize the same actor who'd played Quentin Fleming from Season 3 of AHS. He might have a different name this time around, but he could still be the same character, who might have changed his name after Cordelia was named the new supreme of the coven. That being said, Roberts's Madison could make a crossover into the Season 6 territory, because eventually they are going to need a little bit of magic to fight off those colonists.
Unfortunately, Roberts hasn't been named a cast member or even supporting cast member this season on AHS, but Murphy said it himself that what we're watching isn't necessarily what we think, so let's not count out anyone or anything just yet.