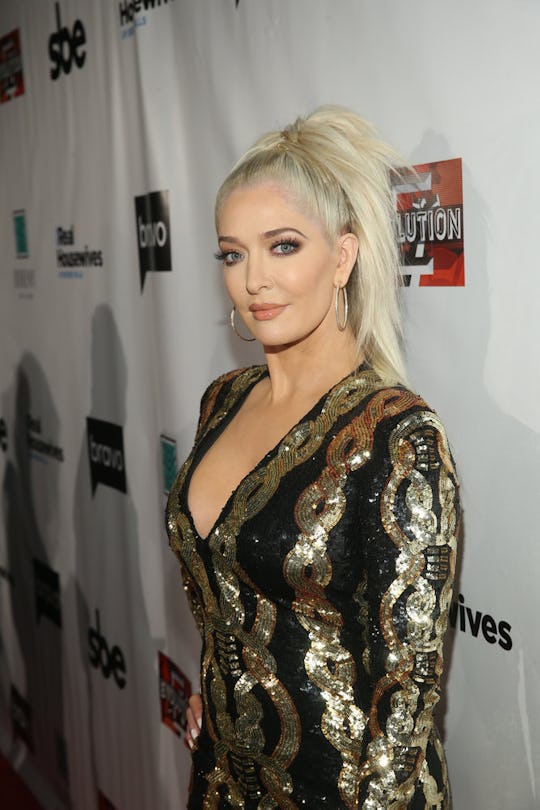 Jesse Grant/Bravo
'RHOBH' Season 9 Might Be Missing One Of Its Core Cast Members
All good things must come to an end and while that doesn't mean The Real Housewives of Beverly Hills as a whole, because it will forever be a timeless treasure, it could mean saying goodbye a cast member. After seeing Erika Girardi on Season 8 and then the reunion that followed, fans have begun to speculate on if she's just totally checked out and ready to move on from the show altogether. So, is Erika Girardi returning to RHOBH for Season 9?
In the past, Erika has been one of the more outspoken stars of RHOBH and during the reunion and even during Season 8, she was as quick with the comebacks as ever. But in some ways, it seems like her heart just isn't in it anymore. And it definitely didn't help when a fan tweeted in April that Erika's announcement about leaving the show was imminent. "Hearing that @erikajayne has quit #RHOBH and that a statement will be published after this season airs," the tweet stated. "Could just be a rumour, however after this season plus Reunion Part 1, I would not be surprised if this was true. And I can't say I would care either, bye girl!"
There wasn't any factual evidence to back up the tweet, but Reality Blurb also revealed that a source close to the show claimed that Erika has threatened to quit before Season 9. Again, Erika herself hasn't made any announcement or even openly hinted at quitting herself, but with the way her career is going otherwise, it wouldn't be all that surprising if she decided to step away from the show.
Fans of the show already know plenty about Erika's music career, in which she goes by the name of Erika Jayne, and since she doesn't seem to be giving up on that anytime soon, she could opt to focus more on that than RHOBH. She released the album Pretty Mess in 2009 and from the album came a number of singles that were pretty well received and even made it on the Billboard charts. More recently, she released a new single "Cars," which will be part of a new EP she's working on, so like I said, music is still a huge part of Erika's life and her career moving forward. Up until this point, RHOBH has manage to remain in her life along with music, but it's not outrageous to think that for her, the show has run its course and she's ready to focus more on other things in her life.
Speaking of which, Erika is also now a published author, as she released her memoir Pretty Mess in March. That doesn't necessarily mean that she's going to be churning out more books anytime soon, but it does add yet another big move for her since becoming a part of RHOBH. The show may have given her a start in show business, but that also doesn't mean that she'll stick with it as long as some of the veterans of the series have, especially since she had a bit of drama during Season 8.
RHOBH Season 8 brought a new cast member in the form of Teddi Mellencamp, who Erika seemed to clash with right away. In fact, because of their inability to bond on the show, Teddi even wrote on her Bravotv.com blog that she saw Erika's behavior toward her as "unnecessary anger." Granted, part of the beef probably started when Teddi offhandedly accused Erika of having "pretend amnesia" on the show, but it still created a riff that Erika didn't seem interested in mending.
That's likely not enough to make her want to leave the show, especially as she's been a part of the cast since Season 6. But if the rumors are to be believed, there is a chance that Erika won't be back for Season 9 of RHOBH.
Check out Romper's new video series, Romper's Doula Diaries:
Watch full episodes of Romper's Doula Diaries on Facebook Watch.