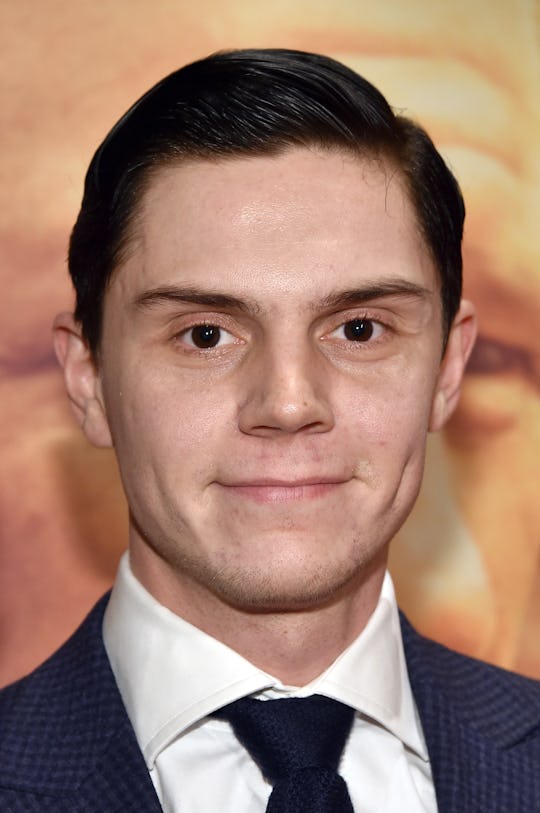 Mike Windle/Getty Images Entertainment/Getty Images
Is Evan Peters' 'AHS: Roanoke' Character Going To Be Different? He'll Be Changing Roles
Just when you think you've figured out Season 6 of American Horror Story, they go and totally flip the script on us. But in this case, that's meant in the most literal sense. Not only is the reenactment part of My Roanoke Nightmare over, but we are about to be introduced to some new characters halfway through the season, some of which will be played by those who have already made their Roanoke debut. So is Evan Peters a different character on American Horror Story: Roanoke? Right now we know him as Dandy's ancestor Edward Phillipe Mott, but now that the season is changing tactics, he most likely will be hanging that powdered wig up in order to play a totally different role from this point forward.
According to AHS co-creator Ryan Murphy, Episode 6 is not only going to see the return of Taissa Farmiga and Finn Wittrock, but it will also introduce a whole new character played by Peters. Murphy told E! Online that Peters's new role in Episode 6 is important and that it's "one of the greatest, most hilarious things Evan has ever done and he loved it. He's a very big, pivotal part of episode six, playing a completely different character than what we've seen him play." Unfortunately, we still don't know much about Peters's new character for AHS, but he's nailed every single role this series has given him over the past six seasons, so I'm sure this will come to be no exception.
Season 1 Murder House: Tate Langdon
At first, Tate seemed like the cute and sweet boy next door, but we would later find out that not only was Tate actually dead, but he was also a former killer who went on a shooting spree at his high school. That was kind of the nail in the coffin for the on-again, off-again relationship he had with Violet Harmon, who later became a ghost along with him.
Season 2 Asylum: Kit Walker
Peters returned for the second season of AHS as Kit Walker, a blue collar man whose wife turned up missing, leaving authorities to point all of the blame on him as well as make him the prime suspect in a number of local murders committed by Bloody Face. He was thrown into the asylum, only to eventually be released and cleared on all charges.
Season 3 Coven: Kyle Spencer
Kyle Spencer was a fraternity brother who was actually a decent guy, unlike the rest of the dudes in his house. He was legitimately sweet and interested in Zoe (Farmiga), though, once again their love story hit a few speed bumps, so to speak. After meeting, he was almost immediately killed in a bus accident caused by Madison Montgomery (Emma Roberts) only to later come back as an altered, undead servant boy, Franken-Kyle.
Season 4 Freak Show: Jimmy Darling
Jimmy Darling was kind of the perfect guy in Season 4 of AHS, even with those lobster claw hands. And don't even get me started on those Tupperware parties he attended. Suffice to say, he was definitely a freak in the sheets, pun totally intended.
Season 5 Hotel: James Patrick March
Peters finally returned as a bad guy in AHS: Hotel last season as the hotel patriarch, serial killer James Patrick March. His Thurston Howell drawl and affinity for murder dinner parties and controlling everyone in the hotel is what made March who he was, and Peters played him like no one else could have.
Season 6 Roanoke: Edward Philippe Mott
Most recently, Peters took on the role of Edward Philippe Mott, a relative of the Season 4 maniac Dandy Mott, and we got to see firsthand how much alike the two spoiled rich men were. Although we didn't see Mott actually murder anyone, he was impulsive, with no empathy or regard for anyone else. So it wasn't hard to see where Dandy got most of his non-charm.
But now Peters is apparently set to change roles on AHS and step into a character in Episode 6 that is both funny and unlike any of his characters from any of the past seasons of AHS. But the question no one is asking is whether or not Peters's new character is going to last beyond Episode 6, because as history has shown us, we need some Peters in our lives as much as possible.