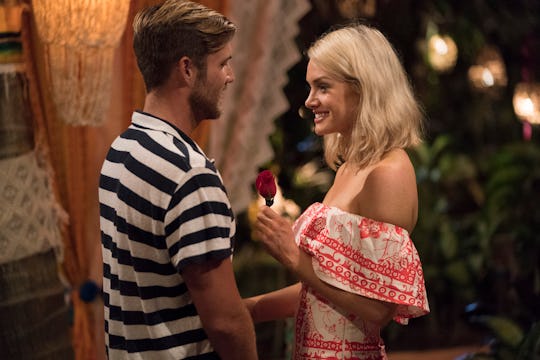 Paul Hebert/ABC
Jenna's Relationship Status After 'Bachelor In Paradise' Is Still Unclear
Jenna might have seemed like one of the less serious Bachelor in Paradise contestants this season, but despite her readiness to "get coco-nuts," she turned out to be there for the right reasons. She even made what seems to be a serious connection with Jordan, who was quick to return that affection. But now that the season is coming to an end, is Jenna single after Bachelor in Paradise? The whole point of BiP, at least for most contestants, is to find love with someone else in Bachelor Nation. And ahead of the Season 5 premiere, Jenna told The News & Observer that she went into BiP with the intent of finding a real partner, as opposed to just a good time. Even though she might be one of the most fun-loving and endearing cast members this season, to be honest.
"This time instead of playing in the rocks, I will be playing in the sand," she said. "My journey to find love will be a whole lot hotter in Mexico. Full of tears, smiles, drinks, kisses, bikinis, burritos and repeat! I'm looking for a man who can keep up. Someone who can handle my energy, loves my ever-present but endearing flaws, and wants to help me make a positive difference in the world. I'm so excited about the possibilities!"
She also spoke to the newspaper back in February and when she'd been asked at that time if she would go on BiP, she was pretty open to the idea. "I would consider anything at this point," she said then. She seemed to be all about finding love this season and she might have done just that with her male counterpart, Jordan.
Jordan himself had eyes for Jenna long before she even made her entrance on BiP this season. In August, he told Us Weekly that among the few women he hoped to see in Paradise, Jenna was at the top of the list. He said that Jenna is "just the right type of personality" for him and that "she's like a California dream kind of style — blonde hair, blue eyes." Even throughout the season, Jordan has made comments about Jenna being the perfect match for him and, judging by their first date where the chemistry was seriously popping, they hit it off quickly.
It's not clear if Jenna went on BiP with the hopes of meeting Jordan and connecting with him specifically, but even after meeting some of the other guys this season, she always seemed to go back to Jordan. Unfortunately, however, social media doesn't give much away. Jordan's Instagram is currently chock full of enough professional modeling photos to give Derek Zoolander himself a run for his money, and Jenna hasn't let anything slip on her own Instagram. But the Season 5 BiP promo does make it seem like the couple stay together beyond Mexico.
In the promo, there's a shot of Jordan smiling down at someone in bed, while wearing a robe. The scene doesn't show who the other person is, but I have to assume that Jordan is in one of the overnight date suites, which are typically given to couples who make it to the end of the season. And at this point, there's literally no one else Jordan could have gotten close enough to besides Jenna to share the overnight date with.
Of course that doesn't mean that the pair are still together now, after BiP, but it's certainly possible. And if Jenna is with anyone, then my money is on Jordan, since filming for BiP ended over the summer and it hasn't been very long since then. Logically speaking, there probably hasn't been enough time for Jenna to move on. So if she's in a relationship, then it's very likely that Jenna and Jordan are still going strong.