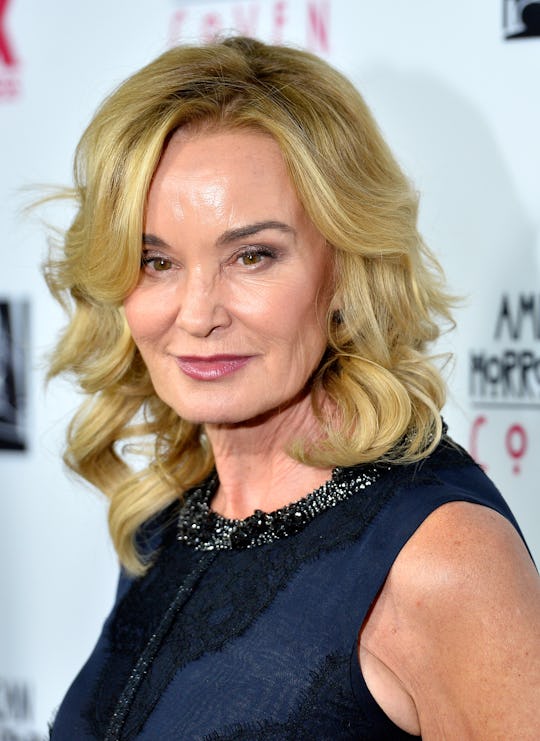 Frazer Harrison/Getty Images Entertainment/Getty Images
Is Jessica Lange Returning To 'American Horror Story' Season 6? She's Made Her Decision
For the first four seasons of American Horror Story, Jessica Lange was like a permanent fixture. And no matter who she played, though always the perfectly villainous character, she kind of blew our minds. So obviously with all of this talk of the impending season upon us, it has people wondering about her fate with the show. So, is Jessica Lange returning to American Horror Story for Season 6? While there are plenty of actors returning to the anthology series to take on new roles, Lange will sadly be absent from the debauchery this season. And, according to the actress herself, from any seasons going forward.
Take a deep breath, calm yourself, and count to 10 if you have to. Because while Jessica Lange won't be returning to American Horror Story, we still have plenty of returning actors to get us through this season and there's nothing stopping us from going back to look at the characters Lange has played in the past seasons. For her, it was only natural to leave on a high note and move on to other things, while letting actresses like Lady Gaga kind of slide into her place on American Horror Story. Obviously those are some pretty big shoes to fill, but if Season 5 was any indication, we know that Gaga is capable.
Still, it doesn't make it any easier to say goodbye to the matriarch of American Horror Story.
When Lange recently spoke to Charlie Rose about whether or not she would be returning for Season 6 of American Horror Story, she was pretty clear on her stance. It would be amazing if she was more vague, leaving us to wonder with hope about her fate on the show, but that definitely didn't happen.
"No. I think, you know, I had four years with that, four seasons, and each year was a marvelous character. Everything changed from one year to another which made it very interesting for me. But no. I think sometimes you come to the end of something."
But in true badass Jessica Lange fashion, she left the show on a high note, before the show or she herself was played out for fans.
From the beginning, she's played the sorts of characters you loved to hate and eventually came to actually sympathize with, in spite of all of their shortcomings and terrible decisions. Something tells me that no one is going to be able to do that quite like Jessica Lange did with all of her characters from American Horror Story.
Season 1: Murder House- Constance Langdon
Constance Langdon was the next door neighbor of the Harmons and the mother of former school shooter and resident ghost Tate (Evan Peters). She originally had four children, two of which were born with some sort of deformities, causing her to refer to her womb as cursed. Throughout the course of the season, we learn about Constance's penchant for murdering those who cross her and either burying them in the backyard of the Murder House or grinding them into meat to feed to her dogs. Constance was basically the scariest next door neighbor ever. Playing Constance Langdon also won Jessica Lange both a Primetime Emmy Award and a Golden Globe.
Season 2: Asylum - Sister Jude Martin
Lange came back for Season 2 of American Horror Story and played another sadistic character. This time, under the guise of a nun in a 1950's insane asylum. Her character eventually showed some humanity and in the end of the season redeemed herself enough for viewers to actually mourn her on-screen death. This season earned Lange a Golden Globe nomination for Best Actress in a Miniseries or Television Film.
Season 3: Coven - Fiona Goode
Unsurprisingly, Jessica Lange returned to American Horror Story: Coven to play yet another season bad guy, coven supreme witch Fiona Goode. Obsessed with youth, keeping her spot as supreme witch, and fighting the mortality that cancer made her face, Fiona was intent on doing whatever it took to remain alive and well. She kills off the witches in the coven in order to regain her strength but, as she realizes her daughter (Sarah Paulson) has risen to power as the new supreme, she succumbs to her illness and spares her daughter's life. Not surprisingly, Lange's performance for Season 3 earned her another Primetime Emmy.
Season 4: Freak Show - Elsa Mars
Jessica Lange's final role in the American Horror Story universe was Elsa Mars. She played a German freak show leader and caretaker, who was previously a brothel worker back in Germany. After having the lower half of her legs chopped off in a snuff film, she received prosthetic legs and made her way to America, where her freak show career began. After selling off her freaks to find real fame in Hollywood, Elsa eventually sees the error of her ways, as Lange's AHS characters tend to do, and commits suicide when she learns what happened to all of her freaks under Dandy's care. And yes, this fourth installment of American Horror Story earned Lange another Golden Globe nomination.
Instead of returning to American Horror Story, Jessica Lange will keep it in the Ryan Murphy family and star alongside Susan Sarandon in his new FX anthology, Feud. Because apparently Ryan Murphy needs to rule the world of Fox and FX, a la Shonda Rhimes. But who's complaining, right? Its first season will look at the career-long rivalry between Bette Davis (Sarandon) and Joan Crawford (Lange).
So while we won't get Jessica Lange in the new season of American Horror Story, we haven't seen the last of her by far. For those of us who are still looking forward to Season 6 of American Horror Story, with or without Jessica Lange, the new season premieres on FX on September 14.