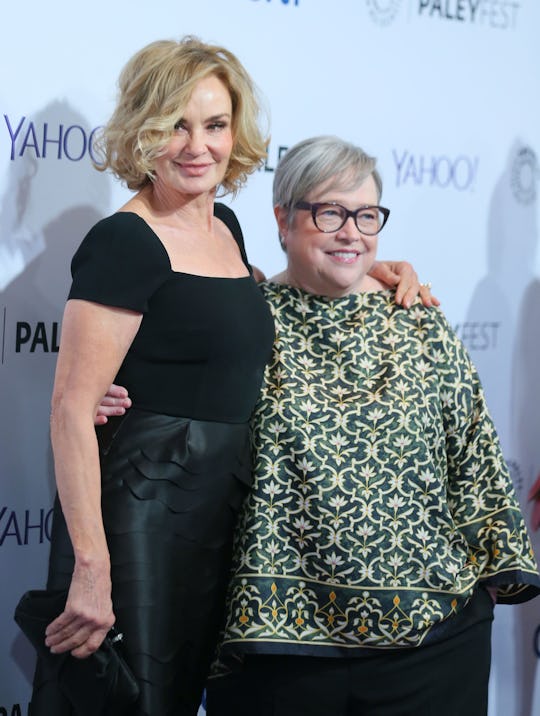 Mark Davis/Getty Images Entertainment/Getty Images
Is Jessica Lange The Real Butcher On 'AHS: Roanoke'? This One Line Almost Gives It Away
One of the most interesting parts about the big twist on American Horror Story this season has been meeting all of the actors behind the reenactments on My Roanoke Nightmare. But we're all still waiting to meet many of the "real" ghosts and are left to wonder who will be playing them in the reality show within AHS. We've met Agnes, the actress behind The Butcher from My Roanoke Nightmare, but is Jessica Lange the real Butcher on AHS: Roanoke? She hasn't been credited in any way this season and she's even said on more than one occasion that she won't be back to AHS, but Lange is the queen bee of the AHS universe and we'd be crazy to not root for her return right now.
When Agnes is talking about her role as The Butcher on My Roanoke Nightmare, she mentions how there are just two important roles in history, stating that, "In my mind, there are only two great roles in the American canon. It's Mary Tyrone in Long Day's Journey and The Butcher." And who was just in a production of the classic play on Broadway? Jessica Lange, of course, our collective AHS mother. It's Agnes's mention of the play and the role itself that immediately raised a few red flags in terms of who the real Butcher is on AHS. Or, at least, who it would make the most sense for it to be.
When Sidney (Cheyenne Jackson) asks Agnes about the toll that playing The Butcher took on her, she immediately mentioned Tyrone's character in Long Day's Journey Into Night, which depicts a morphine-addicted women who just spent some time in a sanatorium. While Agnes didn't admit to any drug use, it's made clear that she recently went through a mental breakdown because of her dedication to her role of The Butcher. So making the connection between Agnes and Lange wasn't hard, thanks to that one line that spoke volumes overall.
It's also worth noting that t Broadway production, which is no longer showing, not only starred Lange as the leading lady, but was also produced by A Roundabout Theater Company in association with Ryan Murphy. Yes, that would be the same Murphy who is also one of the geniuses behind AHS and who helped all of us fall in love with Lange in the first place. Adding in that line about Mary Tyrone might have been an Easter egg that Murphy left for diehard fans to find on the off-chance someone would be able to connect the dots. And since we haven't met the real Butcher yet, it could very well be Lange.
Back in June of 2015, Lange spoke to Deadline and was adamant about her decision to move on from AHS, saying, "I have no regrets or second thoughts about that decision. But there's always an end to everything." And while that was a heavy pill to swallow, we all kind of accepted it and watched AHS: Hotel without any Lange present and moved on with our lives. (Or, at least, tried to anyway.) But now that there is a good chance for a surprise, super hush-hush return of someone who is basically the matriarch of AHS, it's definitely cause for a second or third glance at the evidence.
There hasn't been any confirmation of Lange's return to AHS, but then again, most of the secrets of Season 6 have been kept heavily guarded, even for much of the cast involved. So Murphy could totally be pulling one over on us and have Lange's part as The Butcher stashed away as a huge surprise. Here's hoping!