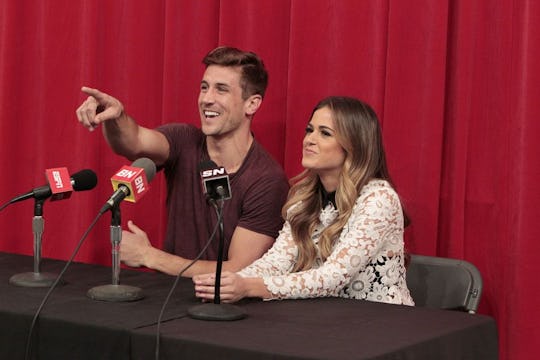 ABC/Rick Rowell
Is Jordan Rodgers Single Now? The 'Bachelorette' Contestant May Not Make It To The Finale
When it was revealed that Bachelorette contestant Jordan Rodgers was offered a position with ESPN sister station, SEC Network, fans everywhere were instantly concerned with his fate on the show. Does this mean that he isn't going to last until the final four and hometown visits? And is Jordan Rodgers single now after The Bachelorette? It's hard not to immediately worry about all of the above when it comes out that he's going to be working, seemingly full-time, on another TV show soon. How can he plan a wedding with JoJo if he's busy working on a sports show?
OK, we probably don't need to get ahead of ourselves just yet. The situation could totally be that Jordan just accepted an opportunity to further his career and it has nothing at all to do with JoJo or The Bachelorette. Or, on the other hand, Jordan could have used the show to get his second wind in the sports industry. It certainly didn't help that for the first several episodes of the season, he had to face random Chad comments about being a has-been with a famous NFL player brother. We all know that pretty much anything Chad has ever said on The Bachelorette shouldn't be taken seriously, but bullies have a way of infecting your mind.
But just because he had ties to fame before and will probably lay claim to some after The Bachelorette has ended, does that means Jordan Rodgers is single now? This season hasn't exactly been golden for JoJo herself, with house villain Chad stirring up storm after storm and her own ex spilling rumors about her that the other guys in the house had to read themselves, much to her obvious embarrassment. Having a guy with a fame agenda get to the final four, or even the final two, wouldn't be totally out there for JoJo this season on The Bachelorette.
Unfortunately, there is the little stint Rodgers had when he played a small part in Pitch Perfect 2, as a Green Bay Packers a cappella singer (the same team his brother Aaron Rodgers plays for in real life), and this was after his real life NFL career ended. But not before he supposedly had hopes to be the next Bachelor, as opposed to a contestant on The Bachelorette. So, take that how you will, as his career course has definitely involved show business since the sport actually ended for him.
If Jordan Rodgers doesn't make it to the Bachelorette finale, then yes, he is most likely single and ready to enjoy the SEC job that likely in part came as a result of his time on The Bachelorette. Or, even if he does make it to the finale, there is still the possibility of JoJo shafting him at the last minute for whatever other contestant seemed to actually be there for her. On Monday's new episode of The Bachelorette, the description involves the mention of Jordan making a "shocking admission" to JoJo, which could be a number of things, but we're getting down to crunch time here. It's probably not nothing.
At this point, all we can do is hope that Jordan does right by JoJo on The Bachelorette and doesn't turn out to be a Chad in sheep's clothing.