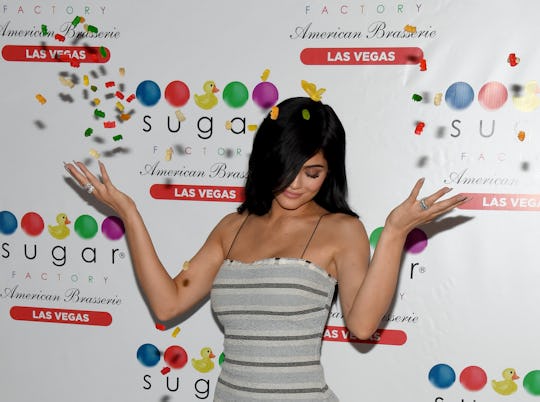 Ethan Miller/Getty Images Entertainment/Getty Images
Is Kylie's Daughter's Name Actually Storm?
When the news of Kylie Jenner's pregnancy finally was confirmed, it was confirmed via an Instagram post and adorable YouTube video announcing not only that she was pregnant, but that she had already given birth to a little girl. It took a few more days for the name to be released and Kylie has now shared a new Instagram post with the name Stormi. But is Kylie's daughter's name Storm and Stormi is just a nickname? Some fans seem to think so.
When it comes to the Kardashian-Jenner clan, nothing is too much, so if Kylie decided to release a photo of her daughter with a nickname instead of her full, formal, birth certificate moniker, it's not that surprising. When big sister Kim shared her own new baby's name earlier this month, she also shared a nickname, tweeting "North, Saint & Chi" rather than her baby's full name, Chicago. But this was after she had already given the baby's full name via her website and app, so it's not as if everyone was wondering if the baby's full name was Chi. So considering Stormi is what Jenner shared, we can only assume that's the actual name she gave her daughter. E! News also reported that the baby's name is Stormi, so with the extra clarification, it makes it feel even more real that Jenner didn't go with Storm for a name, but that Stormi is the official one she chose.
While Kardashian-Jenner theories usually run the gamut of absurd to too "vanilla" for the family, Storm was actually a name that many fans speculated about when the news that Jenner was pregnant leaked. In a tweet on Jan. 12, Twitter user Stephanie Frosch tweeted that she had heard Kylie Jenner named her baby Storm. It seems like a super odd coincidence, but I'm not sure how much weight that tweet should get in terms of actual truth. The tweet also retweeted a post that claimed Jenner was in labor on Jan. 12. Considering Jenner didn't give birth until Feb. 1 according to her Instagram post revealing the pregnancy and her daughter, it doesn't make much sense that she would've been in labor for three weeks. (I mean, maybe Braxton Hicks contractions? Maybe she lost a mucus plug? Maybe she just felt sort of "eh" and went to the hospital? I don't know. I'm not an OB-GYN.)
But this wasn't the only tweet claiming Jenner named her daughter Storm and/or Stormi. In fact, there were more than a few. Whether information got leaked at some point during Jenner's pregnancy or it was just a very good gamble is anyone's guess. But with Jenner's confirmation, we can all guarantee one thing — Stormi is officially this baby's name.
And man, what a unique name it's going to be. While other Kardashian-Jenner names have become popular (Mason and Penelope for example), unless people are super inspired by Jenner's choice, Stormi probably isn't going to be a name that needs a last initial behind it in the preschool classroom. When I put the name Stormi into the Social Security Administration database to see how popular it is and has been over the last 18 years, this was my result:
I mean, I guess that's not too surprising, but I am actually really surprised by this name and I don't know why. I feel like it's quirky, but not nearly as trendy or "weird" as some other celebrity names. (Apple, Bear, Chicago... I went with an ABC theme here.) In fact, I find it kind of endearing and also maybe a sign of what's to come. After a super peaceful and private pregnancy and birth, it seems like Jenner was more than ready to jazz things up a bit. With a name like Stormie, it might feel like a lot to live up to, but if there's one thing I've learned about this Kardashian-Jenner family, they're up for any challenge.