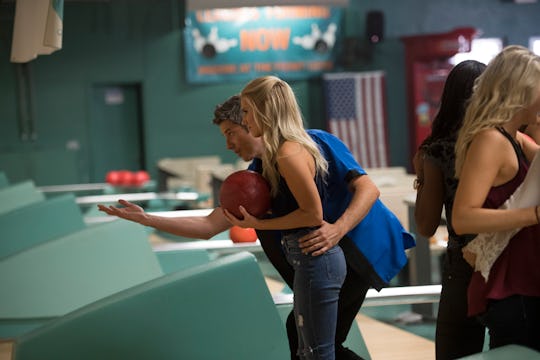 Paul Hebert/ABC
Lauren B. Is Enjoying Life Away From 'The Bachelor' Cameras
It's impossible to deny that the two remaining women on The Bachelor this season, Lauren Burnham and Becca Kufrin, are very different from each other. Where Lauren B. seems to be more quiet and reserved, Becca is a bit more outgoing, and while one quality doesn't outweigh the other by any means, it gives Arie Luyendyk Jr. a lot to think about. But since he can only choose one, you have to wonder, is Lauren B. single after The Bachelor? She seems content in doing her own thing right now, but if she's currently engaged to Arie, she probably wouldn't be allowed to post anything about it on social media just yet anyway.
Even if you don't know about the spoilers regarding the outcome of Arie's season of The Bachelor and how things come to an end and then totally explode following the finale, you may have seen the comments about Lauren B. on her Instagram photos. They range from supportive and kind to critical and downright mean. It's sometimes hard to remember that these women may be on TV, but they're also real people out in the real world. With just two women left, some fans have adopted a certain "Team Becca" or "Team Lauren B." stance that only hurts the women of The Bachelor.
Recently, Lauren B. posted a photo of herself shaking out her long blonde waves with the caption, "Shakin' off the haters," so I'd say she has more important things going on right now than trying to find a potential husband. That is, if she and Arie aren't a thing right now, in the real world and in real time. She's likely been enjoying life back home with her family, though, as most of her Instagram photos with location stamps show her back in Virginia Beach. And the professional photo she posted with the sassy caption is from a photographer who appears to be based in northern Virginia.
Honestly, the only way Lauren B. is single after The Bachelor is if she didn't end up with Arie, because on the show at least, she seems totally in love with him, and you have to admit that, even if you're rooting for Becca to get that Neil Lane engagement ring. There's only so much these contestants can do post-Bachelor that won't rouse suspicion either way. After filming ended for Lauren B., it seems like she's kept a generally low profile back in her hometown with people she cares about, as opposed to hinting about a relationship with Arie or seeing anyone else romantically. She's also been spending time with friends from back home, as you can see in a lot of her more recent Instagram photos.
Lauren B. formed a connection with fellow Virginian and fellow Bachelor contestant Jacqueline Trumbull too and even had a professional photo shoot done with her in her hometown, which is nothing short of adorable. It's a relationship that wasn't really expanded on during filming, but clearly outside of The Bachelor, Lauren B. has enough going on while she's doing her own thing and living her best life possible that she don't need no man. OK, that last part may be a little drastic, but unless Lauren B. and Arie are secretly engaged and have yet to reveal their relationship publicly, which is possible, she appears to be single.
With the epic finale and After the Final Rose that The Bachelor promos are promising fans, there's no telling how things turn out for Lauren B. this season, but right now, she seems to be doing fine away from the cameras, whether she's single or not.
Check out Romper's new video series, Romper's Doula Diaries:
Watch full episodes of Romper's Doula Diaries on Facebook Watch.