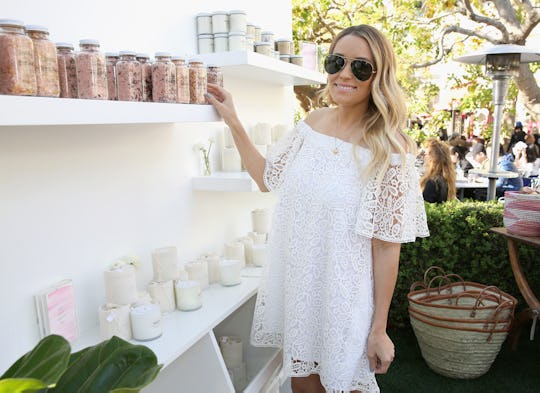 Rachel Murray/Getty Images Entertainment/Getty Images
Lauren Conrad's Maternity Line Isn't Sold Out — Yet
Lauren Conrad, author, fashion designer, and former reality star, is expecting a baby boy. Perhaps equally as exciting for her devoted fans, Conrad followed up that announcement with the debut of her first maternity line, which she designed for Kohl's. The collection hit stores on Wednesday to an eagerly awaiting public, with online orders immediately pouring in and legions of followers flooding stores across the country. But with such high demand, is the Lauren Conrad maternity line already sold out?
The short answer is no. While in-store supplies may vary from location to location, the entire maternity line is still available via the Kohl's website at refreshingly affordable prices. Individual price tags range from $28 to $47 and some are already on sale. While the collection may not be sold out now, those sale prices will likely cause the line to fly off the shelves quickly in the coming days. There are currently 11 pieces available on the Kohl's website, with six of them available exclusively online, so hurry if you're looking to select a good array of pieces for your own closet.
LC Lauren Conrad Maternity includes many of the fashion statements that the designer herself made while pregnant. Conrad's pregnancy style not only solidified her status as a fashion icon, it also increased public interest among those looking to recreate the looks themselves. In an interview with People, Conrad shared some of her favorite styles, many of which were included in her resort line and maternity line:
I think for me, it's dresses and flowy tops. Those are my go-tos. I personally like softer, stretchier fabrics for every day, and some kind of sweeter sundresses. With the dresses, we did two of them — one of them is off the shoulder and a jersey-type dress, which I really like.
Designing the maternity line was a part of Conrad's experience as a soon-to-be mom. Finding clothes to suit her changing body wasn't always easy and she often found her fashion options to be "limiting." Conrad shared with People her challenges while dressing during pregnancy and how they came to shape her collection:
One of the things I really struggled with when I was shopping was that I wanted to maintain my everyday style, but I had trouble finding the types of pieces available in maternity collections. So I wanted to cater towards our existing customer who just happens to have a new shape, but still wants to dress in line with her style that she has had for years.
The end result has achieved Conrad's goal of providing fashionable choices for pregnant women — more importantly, this adorable, affordable line is still available to purchase both online and in stores. Thank goodness.