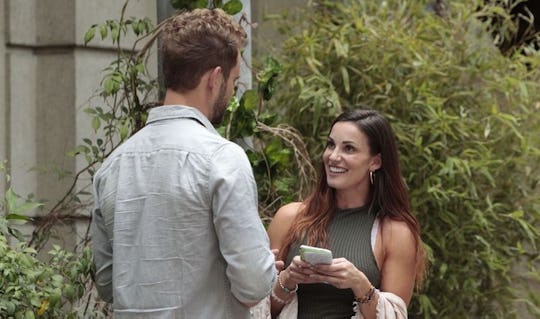 Rick Rowell/ABC
Liz's Instagram May Hint At A Post-'Bach' Love
Calling Liz the one that got away is probably a huge overstatement since Nick literally sent her away on purpose not too long after her surprise limo entrance on the season premiere of The Bachelor. But that hasn't stopped fans from wondering about her and wondering if Liz is dating anyone after The Bachelor, because even though she didn't last long, she was still on the show to get to know Nick better. I mean, the whole way it played out wasn't great and their history of their one night stand after Jade and Tanner's wedding didn't work in anyone's favor, but Liz seemed like she had good intentions for being on The Bachelor this season.
The travel blogger and lifestyle coach typically uses social media to post photos of the amazing places she's been and leave captions full of inspiration and positivity that make you want to be her best friend, but on Valentine's Day there was a particular photo that says a lot more than any of that. Liz posted a photo of this mystery man looking out at the Grand Canyon and added this caption: "You make life more fun. #HappyValentinesDay #GrandCanyon #Sunset #Camping #2countries #11states #RoadTrip #adventures." Really, the proof is in the hashtags.
There haven't been any other photos of anyone who could be this mystery guy, but when someone commented about love, Liz responded with, "it's everywhere!" So does this mean that Liz from The Bachelor is dating again? This Valentine's Day travel partner could be just a friend, but the fact that she kept it so mysterious makes me think otherwise. The mystery guy also might be featured off to the side in a video of Liz jumping into a hot spring, so he's definitely someone special, but the question is a matter of how special.
Liz's big claim to Nick was meeting him at Jade and Tanner's wedding, of which she'd served as maid of honor, and the story went that Nick wanted to contact her after their one night stand, but she wasn't into it. Then, she showed up on The Bachelor and Nick questioned whether or not she was there for the right reasons. You know, the reasons that go beyond getting free publicity or fame. Unfortunately, Liz couldn't convince him otherwise, but in the end, it seems like it worked out for Liz. Although it's not confirmed if the new guy featured on her Instagram is in fact a serious boyfriend, I think we can all agree that Liz totally deserves love.