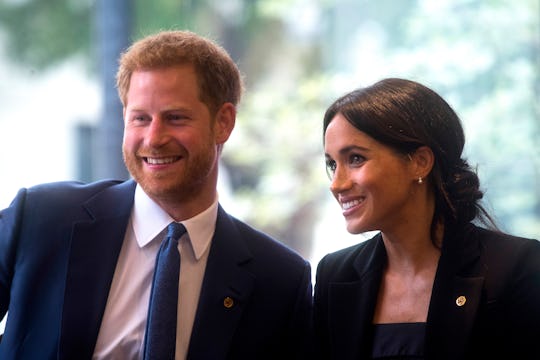 WPA Pool/Getty Images Entertainment/Getty Images
Don't Expect To Find Out If Meghan Markle & Prince Harry Are Having A Boy Or A Girl — Here's Why
It's been a busy year for the royal family across the pond, and it's about to get even busier. On Monday morning, Kensington Palace announced that the Duke and Duchess of Sussex, Prince Harry and Meghan Markle, are expecting their first child together. The exciting news is, of course, cause for celebration and, understandably, people have loads of questions about the upcoming royal baby-to-be. But, if you're wondering whether Meghan Markle is having boy or a girl, you may have to wait to find out the answer.
Kensington Palace did not reveal the baby's sex, but Prince Harry and Markle did share that the 37-year-old duchess is due in the spring. "Their Royal Highnesses The Duke and Duchess of Sussex are very pleased to announce that The Duchess of Sussex is expecting a baby in the Spring of 2019," the palace tweeted on Monday, Oct. 15.
The announcement continued, "Their Royal Highnesses have appreciated all of the support they have received from people around the world since their wedding in May and are delighted to be able to share this happy news with the public."
There will, of course, be lots of speculation in the coming months about whether they're expecting a boy or a girl, but there are many reasons why the sex of the Duke and Duchess of Sussex's first baby was not announced today.
For starters, they may not know themselves. According to Baby Center, most women can find out their baby's sex "usually between 16 and 20 weeks." It's not known exactly how far along the Duchess of Sussex is right now — she's due in spring 2019, according to Kensington Palace — but she's probably just past her first trimester. Then there's also the idea that they want to be surprised... just like the rest of us.
Or, they may learn their baby-to-be's sex and choose to keep it to themselves, much like Prince William and Kate Middleton have done with their three children. As a refresher, Prince William and Duchess Kate's third child, Prince Louis, was born this past April, but the world didn't know if he'd be a prince or a princess until he was actually born. So if Prince Harry and Markle choose to follow in their footsteps, you shouldn't expect to find out if they're expecting a mini Prince Harry or a mini Meghan until the duchess gives birth next year.
Until then, however, the world will certainly have fun finding "clues" and taking bets on the baby-to-be's sex. In fact, according to Express, scientists are already weighing in on the matter, and are already predicting that they will welcome a baby boy. See?
Beyond finding out their baby's sex, there's so much to look forward to in the coming year. Prince Harry is bound to say something adorable about becoming a doting dad, Duchess Meghan is guaranteed to stun and delight the world with her maternity looks and feminist takes on motherhood. In the meantime, however, many congratulations are in order for the parents-to-be!