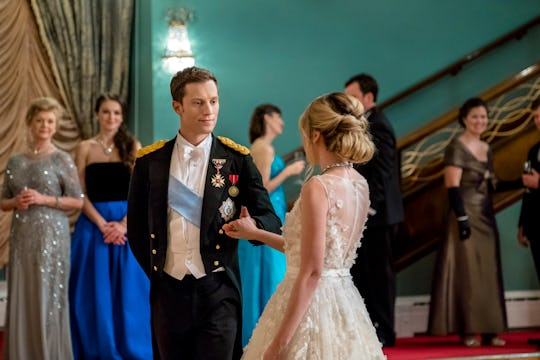 Kailey Schwerman/Hallmark
This Hallmark Movie Will Make You Believe In Fairytales
There's something about modern day fairytales that people seem to love, and lately Hallmark knows that better than any other network. The story of a royal falling in love with an average commoner isn't really anything new, though, but it's the general premise behind Once Upon a Prince, which is about a girl who falls for a guy, only to find out he's a prince. So, is Once Upon a Prince based on a true story?
It honestly seems like it could happen in real life since for once, the story isn't so completely far-fetched. An American girl, Susanna, who is very far from royalty, has car trouble, only to be helped on the side of the road by Nate, a prince. Of course she doesn't know he's a prince at that point in time and the two fall for each other, but it isn't long after that she finds out his true identity.
We can all guess the outcome of the movie, which is likely that the unknowing Susanna will fall for him and vice-versa, doing away with any traditions his family and the royal court require. And as much as it seems like it could happen in real life, with a prince from a smaller and lesser known country, it looks to be another work of fiction made for Hallmark.
Even though Once Upon a Prince isn't based on a true story, the plot for the TV movie was taken directly from the novel of the same name by author Rachel Hauck from her Royal Wedding series. But since there are other novels in the series, so perhaps that means more movies could come from the source material.
Royal wedding stories seem very appealing these days, probably because Meghan Markle and Prince Harry are to be married in May 2018, though this Hallmark creation doesn't appear to be about them in any way. In the movie, Nate is the soon-to-be-king of Cambria, which is apparently another name for Wales in Great Britain. This, of course, places the geography of the movie closer to the real-life royal family of Wales, but the people in the movie are totally fictional.
In real life, both Prince Charles and Prince Harry chose to marry women who didn't have any pre-existing titles of their own. But according to People, royals have been marrying commoners for much longer than the past few years. King Edward VIII famously gave up his title in order to marry Wallis Simpson, who was not only an American, but also a divorcée. There was also Grace Kelly, who was a Hollywood actress long before she married Prince Rainier of Monaco. A royal wedding with someone with no title might seem like something incredibly taboo, especially as it's shown in the Hallmark movie, but in reality, it's totally possible and has been done numerous times before.
Over the past couple of years, Hallmark has been big on romantic comedies with the similar formula of an American and a royal falling in love and going against tradition to be together. The story for Once Upon a Prince isn't unlike that of so many others, which doesn't make it any less interesting, but that and the fact that it's based on a novel, prove that it's another work of fiction.
t won't be the last royal love story made specially for Hallmark, but with Prince Harry and Markle's impending nuptials, the interest has only continued to grow when it comes to stories of modern day princes and princesses falling in love.
Check out Romper's new video series, Romper's Doula Diaries:
Watch full episodes of Romper's Doula Diaries on Facebook Watch.