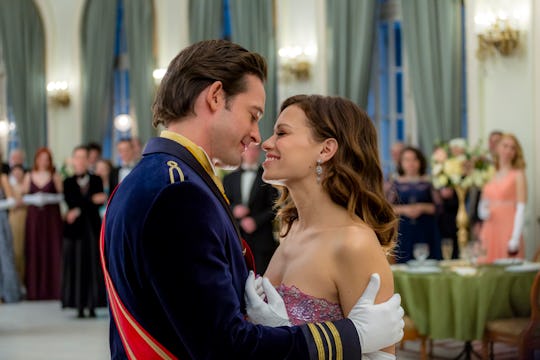 Gabriel Hennessey/Hallmark
This Hallmark Movie Will Get You Pumped For Prince Harry & Meghan Markle's Wedding
If people didn't already live for Hallmark movies about unexpected love between royalty and those born without crowns, Prince Harry and Meghan Markle's upcoming nuptials probably have many in the mood for royal weddings. Hallmark seems to get that better than any other network, as there have been even more royal romance movies as of late, including Royal Matchmaker. But since it kind of seems like it could contain aspects of real life, is Royal Matchmaker based on a true story? The Hallmark movie is about a matchmaker who's hired to find a prince a potential wife so he can be married in time for a celebration in his fictional country.
Of course, we can all guess what happens — while getting to know the prince, the matchmaker (played by One Tree Hill's Joy Lenz) will end up falling for him in the process. Set to the backdrop of a sprawling castle in the countryside which makes you wonder if Hallmark just keeps these places on retainer or something, the movie is a classic Hallmark romance with the trend of royalty thrown in there for good measure. But it would seem that it's a work of fiction, rather than based on a true story.
While it's certainly possible that someone in a royal family might resort to finding a fast match for their prince or princess if they're in a pinch such as the case in Royal Matchmaker, it's also unlikely that one would need to be married in order to fulfill some kind of social obligation due to a national celebration or event. As we've seen in modern day royal weddings, the couples are formed much more organically, and there's little to no need for arranged marriages or even setups like the one in the Hallmark movie. Prince William and Kate Middleton, for example, originally met at college, while Prince Harry and Meghan Markle were introduced by a mutual friend on a blind date. Even before that, Princess Diana and Prince Charles reportedly met when he was dating her older sister.
From the way Royal Matchmaker made it seem, given the bios and photos of each potential bride for the prince, it feels more like an understated version of The Bachelor, in getting to go through them to find the right woman. I can't imagine anything like that happening in real life unless there were some seriously dire circumstances, but even then, a royal family can't really leave anything up to chance unless the possible spouse was given an extensive background checked. And since so many royal couples of the past and present met and fell in love in more conventional ways, it's highly unlikely that a royal family has ever had a need for a professional matchmaker.
In Royal Matchmaker, Kate (Lenz) is a New York City matchmaker hired by a royal family to ensure that the prince finds a wife before the "royal parade." It's the king's idea to hire her in an effort to help his son settle down and of course instead of finding a wife for the prince, Kate falls for him herself and vice-versa. (Go figure, right?) But I guess if there's just one son and heir to a royal throne, getting him married off is serious business.
The entire plot seems to be totally fictional, however romantic it may be. But given the general love of all things related to royal weddings and royal romance, Royal Matchmaker is still another fun and easy Hallmark romance movie to get you amped up for the real life royal wedding this spring.
Check out Romper's new video series, Romper's Doula Diaries:
Watch full episodes of Romper's Doula Diaries on Facebook Watch.