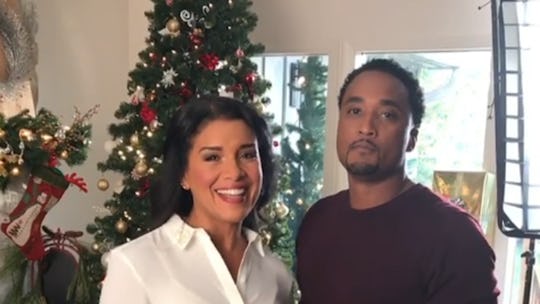 HGTV
Page Turner From 'Flip Or Flop Nashville' Has Some Very Important Relationships In Her Life
For most of HGTV's home renovation teams, the stars are related to each other or romantically involved. It's the sort of thing that makes these shows feel even more authentic, with a real life relationship driving the pair to get work done. For Flip or Flop Nashville, Page Turner and DeRon Jenkins also have a past connection, but they're no longer dating. So you can't help but wonder, is Page Turner single? The Flip or Flop Nashville star may not be currently involved with anyone romantically, but she does have some very important relationships in her life.
Going back literal years on her Instagram, there's no clear mention of any kind of boyfriend or husband in her life, but Turner does seem to hold the other relationships in her life very close to her heart. She regularly posts photos with friends, both male and female, and always has something uplifting to say. She's also a mom to twin daughters who seem to be the most important thing in her life at the moment, so it's no real wonder if a boyfriend isn't her main priority for the time being. And, as Us Weekly reported back in January 2018 when Flip or Flop Nashville premiered, both Turner and Jenkins were single at the time, and since it doesn't look like anything has changed for her since then, it's safe to assume that Turner is still living the single life — and loving every minute of it.
Of course, another important relationship in her life is with her ex-boyfriend and TV home renovation partner, Jenkins. Although they dated years ago for a couple of years, their relationship is strictly platonic these days, which is probably a good thing. As Turner told HGTV ahead of Flip or Flop Nashville's premiere, they didn't work well together in the business side of things once they started dating, but now that they've been split and built a solid friendship, they've found that they can work together without any romance involved. Still, that makes Turner's professional relationship with Jenkins plenty important, especially since it's given them a show in an already successful franchise.
Turner was also part of HGTV's Valentine's Day Instagram stories about being single on a day typically geared toward couples. In a few funny videos, she can be seen showing viewers the perks of being a single woman on Valentine's Day, further solidifying the fact that she's not currently seeing anyone.
Judging by her Instagram, Turner also holds her faith very close to her, so her relationships with those tied to her church are obviously important to her as well, but that does not include any romance at the moment and she seems to be totally fine with that. Who can blame her, though? In addition to being one of the stars of Flip or Flop Nashville, Turner also owns EGAP Real Estate, Incorporated, where she serves as principal broker. She was already so successful even before landing her role on the HGTV show, though, so being career-driven is nothing new to her.
I don't think viewers will be seeing a rekindling of Turner and Jenkins' relationship on Flip or Flop Nashville anytime soon, but that would probably take away from their fun repertoire and chemistry on the show anyway. Being exes is what makes their dynamic work so well, and because of her busy schedule and full personal life, being in a relationship at all is probably very low on Turner's radar right now.
Check out Romper's new video series, Romper's Doula Diaries:
Watch full episodes of Romper's Doula Diaries on Facebook Watch.