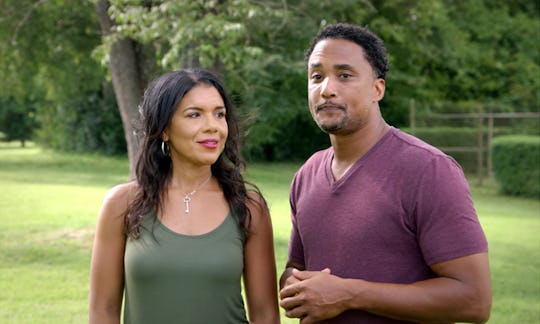 HGTV
Page Turner's Net Worth Reflects Her Impressive Career Long Before 'Flip Or Flip Nashville'
Before exes Page Turner and DeRon Jenkins were chosen to head the newest version of Flip or Flop in Nashville, Turner was already a highly successful real estate broker and has been in the business for more than 11 years. Of course, being on the show will only help her business continue to grow, but what is Page Turner's net worth? The Flip or Flop Nashville star is a pro at what she does, so naturally, she's likely had a lot of financial success over the years.
Fans of the show probably already know that she works in real estate, but Turner is also the owner of EGAP Real Estate in Nashville and has been the principal broker of the full service realty company since 2006. From 2014 until now, she's also been the acting president of the Nashville chapter of the National Association of Real Estate Brokers, so she was already kind of a big deal with HGTV brought her and her ex-boyfriend Jenkins on for the new series.
Although there's no official net worth listed for Turner at the moment, the Flip or Flop Nashville star and real estate broker is likely sitting pretty. According to Paysa.com, the average annual salary for a principal broker in Nashville is $219,000, with $170,000 being on the lower end. If the show ends up gaining the kind of following as the original, however, Turner could stand to have a dramatic increase in her net worth, especially since Christina and Tarek El Moussa of Flip or Flop are reportedly worth $4 million.
Flip or Flop Nashville only just premiered in HGTV on Jan. 18, but already it's gotten plenty of buzz thanks to the fun dynamic between Turner and Jenkins and the fact that they're more of an unconventional kind of real estate/home rehab team. The two dated years ago for a period of five years total until finally realizing that they didn't work as a romantic pair. A couple of years down the line, they reconnected, but as friends, and when HGTV put out the casting call for a couple to head the newest version of Flip or Flop, Turner had the foresight to know that they'd work well together on the show.
"Our relationship changed, and we didn't work as well together in that capacity," she told HGTV, of her former romantic relationship with Jenkins. "But we still worked really well together as far as building homes and selling homes and rehabbing homes went. So we continued our working relationship."
Where Turner has worked in real estate for more than a decade and has built a name and reputation for herself in Nashville, Jenkins, a former professional football player, got started in home renovations after buying his first home years ago. "I didn't really know what I was doing, but the house needed a lot of renovations," Jenkins admitted. "So I decided, 'Hey, why hire someone? I'm just going to do it myself.'"
Fast forward to today and the pair have already proven themselves to be fun to watch and clearly, they work well together, as their work speaks for itself. Since you can never really have too many HGTV home renovation shows to inspire you to try and make your own house into an open floor plan, I have a feeling this is another one to add to your DVR for those weekend binge-a-thons.
I don't see why Flip or Flop Nashville wouldn't get a second season, but even if that doesn't happen, Turner still has a successful career that she's already spent years building up, even without the show.
Check out Romper's new video series, Romper's Doula Diaries:
Watch full episodes of Romper's Doula Diaries on Facebook Watch.