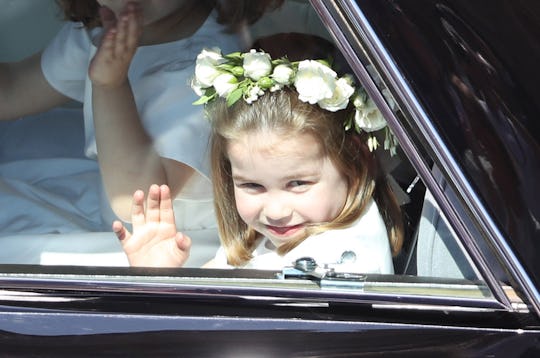 WPA Pool/Getty Images Entertainment/Getty Images
Here's The Deal With 3-Year-Old Princess Charlotte's Royal Dress Code
At just 3 years old, Princess Charlotte has already made quite a few fashion statements. During public appearances, the royal toddler always seems to wear the cutest dresses, often paired with even cuter shoes and cardigans. That being said, she does wear dresses pretty often... Is Princess Charlotte even allowed to wear pants?
Both Princess Charlotte and her older brother Prince George have made headlines for their outfits on many occasions. While Princess Charlotte is known for her adorable dresses, Prince George almost always wears formal shorts (a look which many people have analyzed). As it turns out, there are several reasons behind their rather traditional dress codes. Children's clothing designer Rachel Riley, who is responsible for many of Princes George's outfits, shared some insight regarding the tots' styles with The Telegraph.
"While I don't wish to mimic period drama (shorts are wider and longer, proportions more relevant for the 21st century), I do think my clothes are traditional and that is perhaps the appeal for the Duchess of Cambridge," Riley told The Telegraph. "My clothes are better suited for formal occasion wear, which is predominantly what people come to us for. They're not going to date in photos in years to come."
Princess Charlotte's style certainly evokes the traditional look and timelessness Riley mentioned. While the royal family has certainly become more progressive in recent years, they are also very much rooted in tradition. If you took a photo of Princess Charlotte and made it black and white, you could certainly convince someone the photo was from the 1950s. Now, if she was wearing Hello Kitty T-shirts and sparkly leggings, it might be a bit harder to keep up the timeless, classic image of the royal family.
Not to mention, their father, Prince William, the Duke of Cambridge, has made it clear that he wants his children to grow up with relatively normal childhoods despite their royal status, just like he and his brother, Prince Harry, now the Duke of Sussex, got to. By putting their kids in formal outfits as opposed to more modern, casual looks, they stand out less, allowing them to blend in and have relatively normal outings, according to Woman & Home. In a different interview with The Telegraph, Riley said:
I think they are going for clothing that is classic and timeless, rather than clothes that draw attention to them.
Considering Prince William and Middleton's affinity for classic, traditional children's clothing, it's no surprise that they have turned to vintage pieces for their kids. In 2017, Princess Charlotte was spotted wearing a pair of red leather Mary Jane shoes that once belonged to a young Prince Harry, according to People. When Prince Harry was nearly 2 years old, in 1986, he wore the shoes for a photo shoot with his parents.
OK, so taking all that into consideration, is Princess Charlotte allowed to wear pants? Most likely, she is allowed to, though it's unlikely you'll see her in pants during any official royal visit. Her mom, the Duchess of Cambridge, has worn pants on several occasions since becoming a duchess, so it would make sense that her daughter would be allowed to as well. However, Middleton only wears pants for less formal engagements that are not alongside Queen Elizabeth II. Perhaps once Princess Charlotte begins kindergarten and starts playing sports, she will start wearing pants and shorts. But for now, she seems to be all about the dresses, simply because they are a more traditional look for young girls.
So while it's unlikely that photos of Princess Charlotte wearing pants will emerge anytime soon, it's doubtful that she would be banned from ever wearing them. Based on reports that she took on the role of leader of the bridesmaids at Meghan Markle and Prince Harry's royal wedding, it seems like she certainly has the powers to convince her parents to let her dress a little more wild.