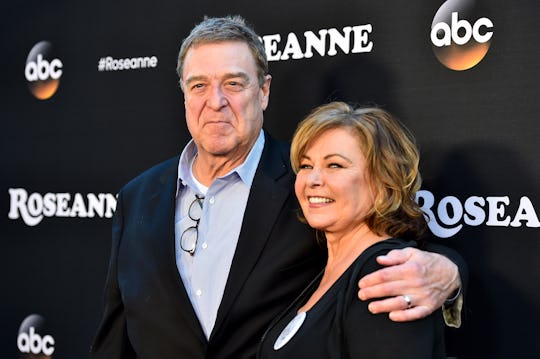 Alberto E. Rodriguez/Getty Images Entertainment/Getty Images
Here's How 'The Conners' Will Kill Off Roseanne For The Spinoff
Back in May, Roseanne Barr's racist Twitter rant left many Americans thinking, "She's dead to me." And now that Roseanne spinoff The Conners is set to premiere in just a few days, fans are wondering: Is Roseanne really dead on The Conners? ABC has made it clear that Barr will not be part of the show, but it will be interesting to witness exactly how her character was "killed off" when the show premieres this month.
While ABC has not yet confirmed Roseanne's fate, Barr herself has spoken out about the topic. In an interview on Brandon Straka's YouTube show Walk Away last month, Barr revealed that the writers "killed her" due to an opioid overdose, Fox News reported.
"They have her die of an opioid overdose. I wanted to show [opioid struggle] in the show, but I was never going to have Roseanne die of an opioid overdose," she told Straka, according to Good Housekeeping. "She should have died as a hero or not at all … It wasn't enough to [fire me], they had to so cruelly insult the people who loved that family and that show."
Killing Roseanne off the show due to an opioid overdose is a timely choice, considering President Donald Trump promised to end the opioid epidemic during his presidential campaign. Like her character on Roseanne, Barr is an outspoken Trump supporter.
When asked about Roseanne's involvement in The Conners in August, ABC Entertainment President Channing Dungey said in a statement, according to USA Today: "We've taken a little page out of the Shonda and Marvel universes and are not talking about it. You'll just have to tune in on (Oct.) 16th."
Additionally, Barr's on-screen husband John Goodman disclosed that Roseanne would be dead on The Conners in an interview with The Sunday Times in August, CNBC reported. He told the newspaper that his character Dan would be "mopey and sad because his wife's dead," according to CNBC.
On May 29 of this year, Barr took to Twitter to share her unwarranted feelings about Valerie Jarrett, a former senior advisor to President Barack Obama. She tweeted that Jarrett looked like "the muslim brotherhood & planet of the apes had a baby," according to Vox. Many responded to Barr accusing her of being racist, to which she replied, "Muslims r NOT a race," and then, "It's a joke," Fortune reported. After garnering more criticism, Barr issued an apology. According to Fortune, she tweeted:
I apologize to Valerie Jarrett and to all Americans. I am truly sorry for making a bad joke about her politics and her looks. I should have known better. Forgive me-my joke was in bad taste.
Just hours after the Twitter controversy, ABC canceled the Roseanne reboot, The New York Times reported. In late June, the network announced it would be replacing Roseanne with the Barr-less The Conners, TIME reported. However, before ABC could officially announce The Conners, Barr had to sign her rights to the character Roseanne over to ABC, according to USA Today.
It will certainly be interesting to see how The Conners treats Roseanne's death when it premieres — this Tuesday, Oct. 16 at 8:00 p.m. ET on ABC.