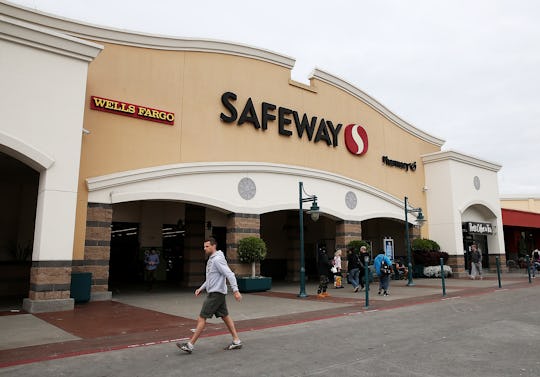 Justin Sullivan/Getty Images News/Getty Images
Is Safeway Open On Christmas? Better Stock Up On Eggnog Early
Ahh, Christmas. It's a magical day where you can't go to the grocery store, but you can go to the movies. Chinese restaurants are open for all your food needs, and yet you won't be able to exchange that super cute sweater that was one size too small until the next day (bummer for your holiday photos). Though it seems like more places are open than ever on holidays, there are still many that close, leaving last-minute shoppers everywhere to wonder if favs like Safeway will be open on Christmas this year.
As it turns out, the answer is kind of complicated. All Safeway locations have different hours of operation, so there isn't a catch-all rule for their hours any day of the year. But most Safeway locations will be closed on Christmas, according to Holiday Shopping Hours. I was kind of surprised by the closure because Safeway is open on most holidays, but I guess if you're going to close one day of the year, Christmas is a good day to choose (and the chain probably does so because of their commitment to a positive grocery experience for shoppers and employees). But again, it's possible the Safeway closest to you could be open because the hours vary so much, so check your local store's hours to find out for sure.
As for Christmas Eve, most Safeway locations will be open according to Holiday Shopping Hours, but you should still check with your local store to see if they're doing abbreviated hours. Many grocery stores do shorten their hours for Christmas Eve to give workers time to spend with their families, so I'd definitely investigate if you don't want to show up right when "Closing Time" starts playing. When it comes to holiday shopping, the earlier you get it done the better.
Despite being closed on Christmas, Safeway is still a great spot to get your Christmas grocery shopping done, both because of their food offerings and the shopping experience the store provides. As the Safeway site explains, the store has been a go-to for groceries and pharmacy needs since it opened in 1915, and their low prices and personal service explain why they're a lifesaver for shoppers all over the country. You'll definitely get a personal experience if you hit them up for your pre-holiday food hunt, and their Christmas deals are pretty good too. They've got weekly savings posted on their site, plus holiday recipes you'll definitely want to check out. I'm personally eyeing these pumpkin pie ice cream truffles; do they not sound like the perfect holiday dessert to liven up your holiday spread?
And if for some reason you don't make it to the store before you're in the thick of holiday celebrations, you can head to one of the few stores that will be open on December 25. You might not be able to go to your grocery go-to, but it's nice to know a few stores will be open in case you have an oven emergency of some kind. Worst case scenario, just head to the movies. Popcorn and candy makes a good Christmas dinner, right?
This first-time mom wants to have a home birth, but is she ready? Watch how a doula supports a military mom who's determined to have a home birth in Episode One of Romper's Doula Diaries, Season Two, below. Visit Bustle Digital Group's YouTube page for the next three episodes, launching Mondays in December.