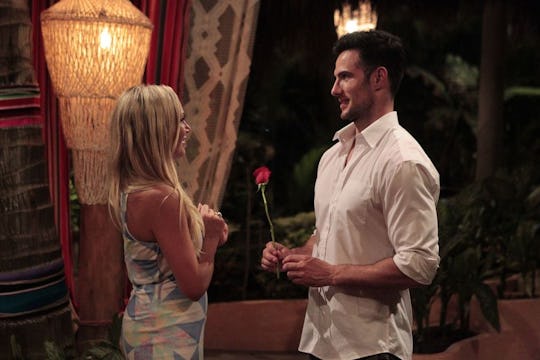 ABC/Rick Rowell
Is Sarah Herron Single After 'Bachelor In Paradise'? She's Already Had Two Connections
When Sarah Herron told off Chad on the Season 3 premiere of Bachelor in Paradise, she became an instant hero for all of us. We've seen plenty of the guys stand up to Chad and tell him exactly where to shove his rude comments and deli meats, but to have one of the women finally tell him like it is was nothing short of amazing. Which Herron absolutely is. So, is Sarah Herron single after Bachelor in Paradise? I don't know about you, but if she is, then I'm calling sham on the whole of this Bachelor Nation we're all so enthralled with. Because it's all about finding and keeping love and this is homegirl's third try at finding a partner on TV, so let's get this thing going.
Since filming wrapped on Bachelor in Paradise, Herron's social media life has been pretty devoid of any romantic inklings, but that could likely be because there is a strict hush hush rule in place for the contestants once filming is over and airing begins. There are rumors (warning: super spoilers, obviously) about a few different engagements being the result of the couples that form on Bachelor in Paradise, but should they prove true, there is always the chance they still don't last or that other couples manage to make it out of paradise unscathed, just not engaged. So what does this mean for our Bachelor in Paradise heroine, Sarah? And no, that similarity to her name is no accident, guys.
On Monday's episode of Bachelor in Paradise, we saw Sarah find possible romances with not one but two guys. The first was Vinny, who was also cozying up to Izzy, but then somehow, Sarah makes an actual connection with Daniel. You remember Daniel, right? He's the one whose profession was listed as The Canadian last season on The Bachelorette and who served as Chad's right-hand man and only friend on that show and on Bachelor in Paradise. So it's kind of way out of left field for Daniel to end up giving Sarah a rose, but she accepts it and it seems like something is happening.
But is Sarah Herron single now? There haven't been any strong, bold, italicized, all caps spoiler-y claims either way, so Daniel either becomes her guy and they embark on a more low-key romance that doesn't make it to the end, or she wakes up from this nightmare unfolding before our eyes and finds someone else on Bachelor in Paradise to canoodle with. Or, her third time looking for love on reality TV proves to be very far from the charm she expected it to be. I think we can all agree, though, that Sarah Herron deserves love just as much as any show villains or twins do at this point.