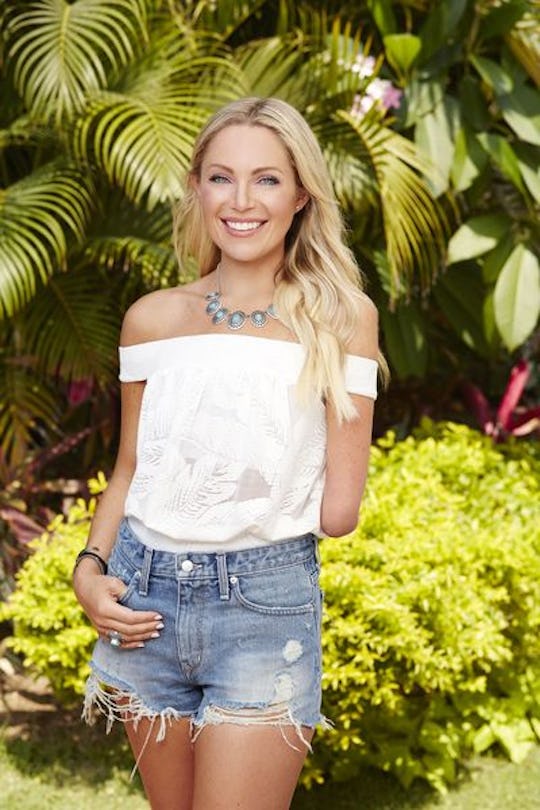 ABC/Craig Sjodin
Who Is Sarah Herron? The 'Bachelor In Paradise' Contestant Is All About Female Strength
When Sarah Herron was introduced to us for the first time on Season 17 of The Bachelor, it was also her first time on TV and, as she has said herself, a very terrifying and at first insecure experience. Which is understandable for anyone, but as Herron was born with a limb deficiency, causing her left arm to never grow properly, it was scary for a whole other reason. So, who is Sarah Herron on Bachelor in Paradise? On The Bachelor, she lasted through Week 6 and only then was she eliminated by the season's bachelor, Sean Lowe. Which isn't a bad way to begin your Bachelor or Bachelorette career, and let's face it — it does become something of a career, with the way different contestants seem to always be asked back for different spin-offs or TV spots.
After Season 17 of The Bachelor, Herron was a contestant on the first ever season of Bachelor in Paradise and, after a little bit of time off in the real world, she's going to be back with Season 3. Basically what we have here is a case of one relentless and strong woman out to find her dream guy, regardless of the amount of work she has to go through to find him. It's kind of hard not to love her.
But other than her exposure with Bachelor fame, who is Sarah Herron? Unlike many of the former contestants who end up going the modeling route, she has found her calling in helping young girls work through their self-esteem issues through physical outdoor activities and related bonding experiences. She's like the big sister we always wanted. Or, you know, still probably want.
She Founded SheLift, A Nonprofit Geared Toward Young Girls
SheLift is a nonprofit organization that is all about building the confidence and self-esteem of adolescent girls and Sarah Herron is the founder . The program is geared toward girls with physical disabilities and includes both day and weekend trips to inspire confidence in them. As the website says, "SheLift brings girls of all ages and body types together to inspire and motivate one another to try things we never thought we could do by ourselves."
She Tried Her Hand At Online Dating After The Bachelor
Anyone who says they never tried online dating is either too old to have gotten on that bandwagon yet, or they're a damn liar. Sarah Herron did her fair share of online dating through the internet and through dating apps after her time on both The Bachelor and Bachelor in Paradise, and I can't really blame her. Sometimes, that method of finding dates is a lot easier and a lot less scary than putting yourself out there all the way in person right away. So, good on her for being so open about it.
She's Already Been on Bachelor In Paradise Once
In fact, Herron was on the very first season of Bachelor in Paradise, which only lasted all of six episodes, but was obviously enough of a hit to return for a second and now, third season. In Season 1, Herron ended in fifth and sixth place with Robert, the other part of her couple. But she obviously made such a strong impact on producers that they felt the need to ask her back for yet another season of Bachelor In Paradise.
She Was Born With Limb Deficiency
And it hasn't slowed her down in literally anything. This is the same woman who has participated in two Bachelor-esque fating shows on TV and is the most active person ever. She seems to do it all, from hiking literal mountains to snowboarding like a boss. Her official condition is known as amniotic band syndrome, which is defined as when the "amniotic sac ruptures and only the amnion is affected, fibrous bands from the amnion float in the amniotic fluid. One or more limbs can be entrapped in the fibrous bands. As the fetus grows the bands restrict growth of the limb, cut off circulation and, in some cases, amputate the limb from the rest of the body. If the limb stays intact in utero, lack of circulation can result in a "dead" limb that must be surgically removed after birth."
She Is A Hiking Queen
If you take a quick look at Sarah Herron's Instagram, you'll see a super active woman who documents pretty much all of her hiking excursions. There seems to be no cliff or mountain to steep or difficult for her to climb. She obviously loves to travel and explore, and exploration seems to be a huge part of who Herron is. Which makes perfect sense, given her super fit physique.
When Season 3 of Bachelor In Paradise premieres Tuesday August 2, we can look forward to not only some of our other Bachelor and Bachelorette favorites, but the return of Sarah Herron as she looks for love again. Go her, right?