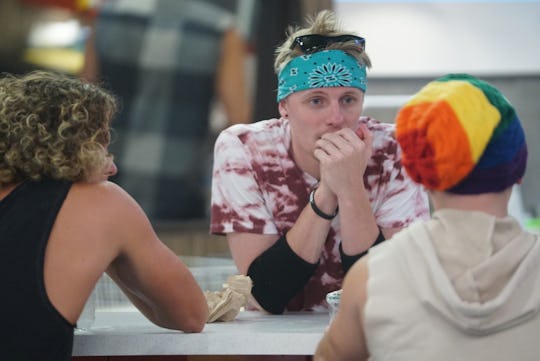 Sonja Flemming/CBS
The FOUTTE Alliance Could Lose Another Member On 'Big Brother' This Week
At the start of Big Brother 20, there were two main alliances: Level 6 and FOUTTE. Since then, Level 6 has been knocked down to Level 4 and FOUTTE has rebranded as The Hive. It's been so long since these alliances were first formed that it's easy to forget who was originally in FOUTTE. For instance is Scottie, a known flipper of votes, a part of the FOUTTE alliance on Big Brother or is he just floating?
When FOUTTE was first formed it consisted of Faysal, Haleigh, Kaitlyn, Rockstar, and Swaggy C. Bayleigh, who was in a showmance with Swaggy C, was also kind of a part of it, but she wasn't in the room when the alliance was officially made. Tyler, who was playing both sides of the house, was also seen as an ally to the FOUTTE alliance, as was Scottie and Steve, who you may have forgotten was the first person evicted.
However, officially Scottie was never a part of the FOUTTE alliance, though if FOUTTE was smart they would've done everything they could to make sure he was because they need more votes. Particularly, having Scottie's vote guaranteed this week would be helpful to FOUTTE/The Hive.
Although Haleigh is head-of-household this week, Kaycee won the hacker competition, upending Haleigh's HOH. After Haleigh nominated Kaycee and Angela for eviction, Kaycee, as the hacker, pulled herself off the block and put up Rockstar. Now, unless The Hive can win the veto competition, it's most likely that Angela and Rockstar will be together on eviction night — and with Kaycee's ability to cancel a vote as the hacker, The Hive will need all the votes they can get. Unfortunately, they don't have much.
Haleigh is HOH so she can't vote unless there's a tie and Rockstar's on the block so she also can't vote. Presumably, Kaycee will cancel Faysal's vote, which gets rids of all The Hive's votes. Thus, their only hope is if Scottie, JC, and Sam all vote to evict Angela and that's a very big gamble. Scottie could be persuaded to vote to keep Rockstar, however he's not a reliable vote. He's flipped in the past and if he fears he's on the wrong side of the vote he may decide just to vote with the house. JC has always voted with the house, except for when he voted to evict Rockstar instead of Kaitlyn. Thus it seems like unlikely he'll vote to keep Rockstar.
Finally, there's Sam, who's been on edge this week. Last week, she voted to evict Rockstar simply because she didn't want it to be a unanimous vote against Bayleigh, showing she votes emotionally. For this reason alone, it seems very likely that Sam would vote to evict Angela, especially because Haleigh told Sam that Angela dropped Sam's name as a possible nominee for eviction.
If The Hive is actually somehow able to get JC, Sam, and Scottie's votes then the vote will end in a tie with Tyler, Kaycee, and Brett all voting to evict Rockstar. Haleigh would then be able to break the tie, sending Angela to jury. However, this is definitely a big if and the odds are not in The Hive's favor. Their only real hope is to win POV and take Rockstar off the block and replace her with someone else in Level 6. Haleigh has already made it clear she wants to backdoor Tyler, but with his cloud app, Tyler will be safe if it comes to that. Still, Haleigh could also put up Brett or put Kaycee back up.
This week could play out in a number of different ways, so it seems this will be another exciting week in the Big Brother house.