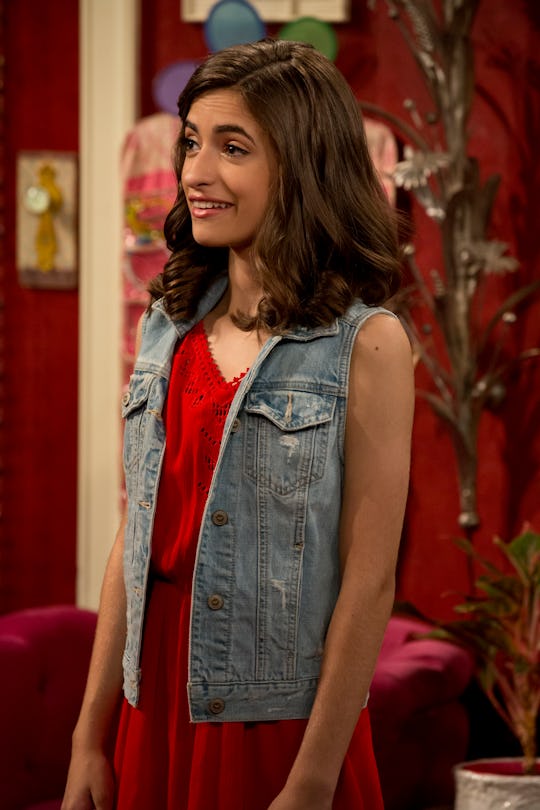 Michael Yarish/Netflix
'Fuller House' Season 3 Showcased Some Surprise Cameos
Warning: Season 3, Episode 10 spoilers ahead! Ramona may have gotten her heart broken back in San Francisco by Popko when he declared he wanted them to see other people, but she found a dreamy replacement in Tokyo in the form of Marius Yo. And bonus points, he's a member of a popular Japanese boy band called Sexy Zone. Ramona and Jackson even got to go to one of their concerts. But is Sexy Zone from Fuller House a real band? The series filmed an episode of Season 3 in Japan, so it's not really surprising that they would include a real life music group. In fact, Sexy Zone is actually a pretty big sensation in Japan and I can see why.
They were named the musical ambassadors of the 2015 Volleyball World Cup in Japan and have considered themselves to be supporters of the sport since they came together as a musical group back in 2011. Sexy Zone's Kento Nakajima spoke at a press conference at the time, stating: ""Sexy Zone debuted in 2011 and have worked at volleyball events ever since. We will work hard to share our passion for the sport with the competition's audiences." Another band member, Fuma Kikuchi, also spoke of the group's excitement about being a part of the celebration of the sport. "Our goal is to show how exciting volleyball is and share our passion with fans on-site and watching the competition on television," he said.
Although Sexy Zone was shown in concert in Fuller House Season 3 for just one song, it was obvious that the band has a huge following in Japan and that the concert shown on the show might be very representative of how packed their venues can get. Much like in the original Full House, when the whole Tanner family got to go on-stage with the Beach Boys, that's kind of how I saw Ramona's dance on-stage with Sexy Zone. Marius Yo, who was credited as such in the episode and played himself, is also a big fan of both the original and reboot of the classic family comedy, which made his appearance extra special.
The last time some of the characters in the Fuller House universe went to Japan, it was in the original series when Uncle Jesse visited the country to perform his own concert and was treated like a rockstar. So it was kind of the perfect callback to his music career when DJ and the family saw his cologne ad when they first arrived in Tokyo.
Although John Stamos really does know how to sing, he was never really a huge singing star, unlike Sexy Zone, which is a real life music group overseas that some Fuller House fans may not have heard of otherwise. But just in case you weren't convinced by the legit concert they put on within the episode, they are indeed just as popular in real life.
Other than featuring the real life band, Season 3 Episode 10 was similar to other episodes of the Netflix Original series, in that it ended with a more or less happy ending and the plot resolved in a very Fuller House way. The episode also featured the opening credits in Japanese and picked up where the first half of Season 3 left off, so pretty much everything fans remembered from the finale of Season 3 Part 1 was resolved, making it worth the wait for the second half of the show's third season.
This was likely a one time deal for Sexy Zone, so we probably won't see them again for the remainder of the season. But it was definitely an enjoyable cameo that I won't soon forget.
Check out Romper's new video series, Romper's Doula Diaries:
Watch full episodes of Romper's Doula Diaries on Facebook Watch.