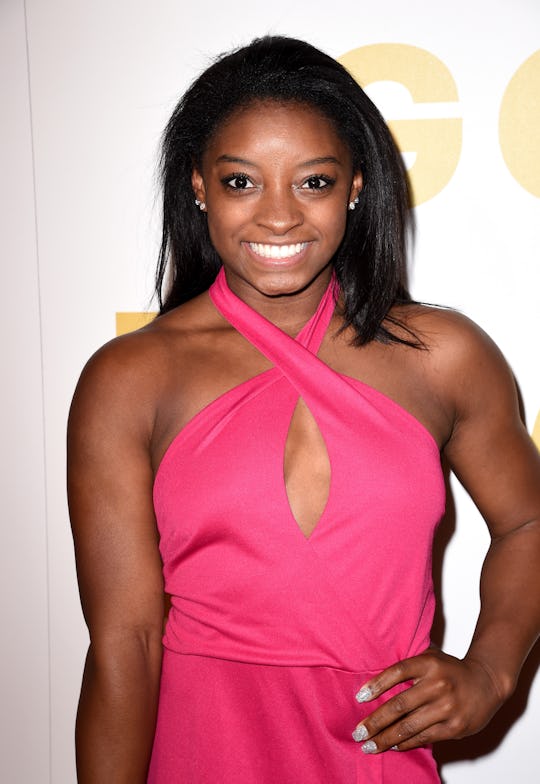 Emma McIntyre/Getty Images Entertainment/Getty Images
Simone Biles' Love Life Is A Mystery
It's been almost a year since Simone Biles took home five medals at the 2016 Summer Olympics, and she's about to get back to competing in a big way. But with her new gig taking up a lot of her time, is Simone Biles single? Dancing With the Stars is going to keep her pretty busy, among the many other things she's got going on in her life.
The last time there were any inklings of Biles being in a relationship was when she struck up a friendship/flirtmance with fellow Olympic gymnast Arthur Nory, who tweeted at Zac Efron when it was revealed that Biles had a crush on him. However, Biles told Us Weekly that their "relationship" was just an inside joke. These days, it looks like Biles is much too busy promoting Kellogg's and its No Kid Hungry campaign, which helps to raise money for school breakfast programs.
On the gymnast's Instagram, there's also a video of Biles at her family's gym, the World Champions Centre, promoting the kids' camps that she once attended herself. So a relationship for Biles, on top of all of this, is probably not happening right now, but she's obviously living her best life right now, so it kind of doesn't matter.
Biles is just 20 years old, but already she's managed to accomplish so much in her life that at this point, finding a boyfriend seems almost trivial. At least, for right now. Her social media profiles don't give away any clues about possible romances, but you can get a good idea of what daily life is like for the Olympic gold medalist and it seems insanely busy. Now she's going to be competing on Season 24 of DWTS, making her that much more unavailable for romance, but that's completely OK.
Biles became an instant star at the 2016 Summer Olympics when she took home four gold medals and one bronze, being recognized as one of Forbes' 30 Under 30 in 2017 and using her fame to try and make a difference. It's kind of hard to believe that Biles started her career as a teenager and has already accomplished so much, so if Biles is single right now, it might be for the best.
Competing on DWTS is a whole new chapter in Biles' career and since she's paired up with Sasha Farber (who placed fifth last year), she might be able to take home the gold once more. I mean, it's not exactly a gold medal but rather a nice shiny trophy, but still. Winning DWTS is the figurative kind of gold that Biles clearly has the stamina for.