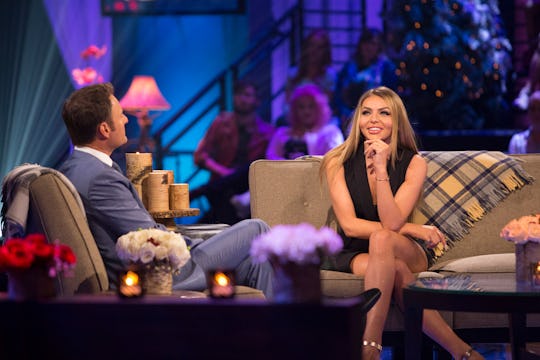 Paul Hebert/ABC
Stassi's 'Bachelor Winter Games' Story Came With A Heartbreaking Twist
After opting out of the fantasy suite date, Nastassia Yaramchuk, known to fans as Stassi, and Luke Pell seemed stronger than ever as a couple, so naturally fans are wondering about their relationship status now. Are they still together or is Stassi single after Bachelor Winter Games? She ended the season in one of the few pairs that were left, but things may have changed once she went home to Sweden.
In a clip from the World Tells All special released by Entertainment Tonight, you can see Luke and Stassi reuniting on-stage and while Stassi speaks to him about how real her feelings were both on and off the show, he essentially seems dismissive of her concerns and feelings, even as she cries right in front of him. Eventually, she walks off the stage, upset and understandably so, and it's made pretty clear that once filming ended for The Bachelor Winter Games, Stassi and Luke did not work out as a couple.
Not only that, but as you can see on Stassi's Instagram, there are no sightings of Luke in any capacity. After filming ended, she seemed to go right back to her life as a model and has seemed to be living her best life possible, sans Luke. She may have remained in contact with some other contestants from The Bachelor Winter Games, but as far as Luke goes, it's clear that that ship has sailed.
In a recent interview with Entertainment Tonight, Stassi revealed that after filming ended, she got a better idea of the man she'd fallen for on The Bachelor Winter Games and it wasn't good. "He's 33. Normally men at this age, they're just not easily showing their emotions, and I was like, 'He's never shown [his feelings] to anyone,' she said. "Then, when I'm back to Sweden and I opened YouTube and saw JoJo [Fletcher, of The Bachelorette] and his date [with her], it was the same story. I was like, 'Champagne, please! A lot of champagne. A few bottles, thank you! And psychological help, please!'"
According to Reality Steve, Luke was rumored to be dating someone shortly before he left for the taping of The Bachelor Winter Games and resumed the relationship when he got back home. Although that hasn't been confirmed, it might help explain why Luke avoided Stassi when filming ended, despite her efforts to try and make their relationship work after the show.
Luke aside, it doesn't seem like Stassi is dating anyone now that The Bachelor Winter Games are over, but she certainly has a busy enough life without the added drama of a relationship with someone who lives across the world. And since Luke seems unconcerned with Stassi's emotions in the sneak peek clip from World Tells All, she's likely better off not trying to pursue anything with him anymore, whether he really is seeing someone else or not.
According to Stassi's Instagram, she leads a busy and exciting life modeling and traveling, so despite the way things turned out with Luke, she's likely been doing well since filming ended. That may not include any new romances in her life, but since she'd obviously been committed to trying to build on what they had while they were on The Bachelor Winter Games, it's not all that surprising to see that Stassi is probably single now.
During the World Tells All special, Stassi said that she didn't even get the chance to talk to Luke and that he hadn't even bothered asking for her phone number. On the show, she told him flat out that she would easily adapt to other cultures and places for someone else but since she felt he didn't try to have contact with her outside of the show, she didn't get the chance to do that for him.
Of course, you can't know for sure what went down between Stassi and Luke outside of the show, but it's unlikely that they'll be able to reconcile anytime soon and perhaps for right now, that's what's best for Stassi.
Check out Romper's new video series, Romper's Doula Diaries:
Watch full episodes of Romper's Doula Diaries on Facebook Watch.