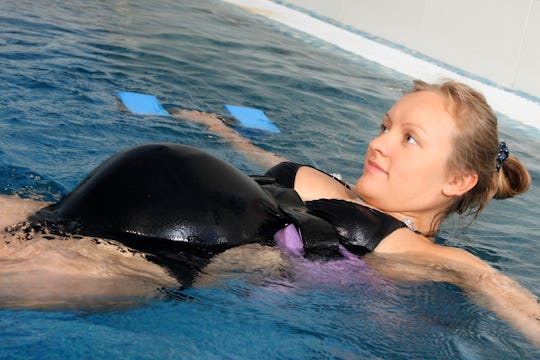 Sergey Chirkov/Shutterstock
Is Swimming Safe During Pregnancy? Don't Put Away The Goggles Yet
Whether you're a competitive swimmer or someone who enjoys hopping in a pool every now and then, you may worry that pregnancy will change your habits. Is swimming safe during pregnancy, or will you need to hang up your swim cap until the baby arrives? Water-loving mammas are in for some great news.
From an exercise standpoint, swimming is a fantastic activity for most pregnant women. As explained by the Mayo Clinic, exercising during pregnancy is important to keeping your energy levels and sleep schedule regulated, and swimming is a particularly good choice. Working out in the water is low-impact, but it can be as challenging as you like. And as further reiterated by WebMD, swimming during pregnancy is kind to your joints, and the feeling of weightlessness offered by water is helpful once you hit the third trimester. Even the U.S. Masters Swimming (USMS) organization recognizes the benefits of aquatic workouts for moms-to-be.
In an interview with USMS, former chair of the OB-GYN Christie Clinic Dr. Millie Nelson said, "you can swim until the minute you deliver." This is excellent news for mer-moms everywhere. But, as always, you can check with your doctor to get individualized workout recommendations based on your current fitness level and the particulars of your pregnancy.
Although the exercise benefits of swimming during pregnancy are off the charts, you may have some concerns about the effects of water safety on your developing baby. Can you swim in a chlorinated pool while pregnant, and what about saltwater options, or even open water swimming? As with many topics, there is some conflicting information. According to Baby Center, there is no evidence that a properly chlorinated pool is potentially harmful to pregnant women; after all, the chlorine is added to kill off bacteria. On the other hand, a 2014 study in the British Journal of Dermatology analyzed the effects of airborne chemicals from chlorine on the susceptibility of children to atopic disease.
This does not necessarily mean that expectant mothers who swim in a chlorinated pool will deliver asthmatic babies; it's a potential correlation still under investigation. That said, it is understandable if you want to err on the side of caution, so you may want to look for a saltwater pool in your area. And what about open water swimming? According to Baby Med, it's important to keep in mind that oceans, rivers, and lakes are not treated for bacteria and germs, so it's a good idea to know about the local water quality before you hop in.
As always, if you have any particular concerns, don't hesitate to speak with your trusted health care professionals or local water experts for more information.