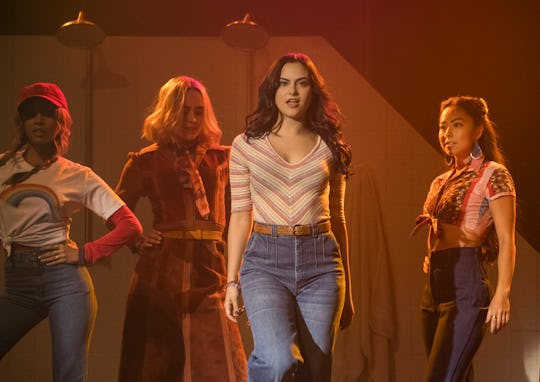 Katie Yu/The CW
Everything You Need To Know About The 'Riverdale' Musical Episode
When a TV show does a musical episode, it can either be an amazing feat for a series or a cringe-worthy 42 minutes of watching actors sing off-key. With Riverdale's musical episode, it's a bit different in terms of featuring a musical rather than having an entire episode play out in song. I mean, it can be done, but it's tricky. Since most of the cast will take the stage in the episode though, is the Riverdale cast really singing?
While it would be amazing to have the "core four" of the show, i.e. Betty, Jughead, Archie, and Veronica do most of the singing, it looks like not everyone is down to try out their singing pipes. According to Variety, much of the Riverdale cast will sing for the Carrie musical, but some will be noticeably absent, possibly because their current storyline or character arc doesn't really work with taking a break to sing in a high school musical. Madelaine Petsch (Cheryl) will be singing in the musical as the lead role of Carrie, while Camila Mendes (Veronica) will play Chris, Lili Reinhart (Betty) will be Sue, and KJ Apa (Archie) will portray Tommy.
There will also be appearances in the musical by Ashleigh Murray (Josie) as the gym teacher and Madchen Amick (Alice) as Carrie's mom. Cole Sprouse (Jughead) will also be in the musical as The Beak but when Riverdale showrunner Roberto Aguirre-Sacasa spoke to reporters at a Q&A about Sprouse singing in the musical, he revealed that instead, Jughead's main role would be making a documentary about the making of the musical at Riverdale High.
Aguirre-Sacasa also revealed in the Q&A that most of the cast participating in the musical on Riverdale will be singing, though it was only lucky that there's so much vocal talent in the cast already. "The only character we auditioned musically was really Josie," he said, adding:
We asked Archie — this was when we thought Archie was going to be really invested in his music career — and KJ [Apa] is a fantastic guitar player, so we knew those two. But it wasn't a big part of the audition. Certainly, we didn't ask Camila [Mendes], and she is completely a triple threat.
As Riverdale fans already know, most of the cast members of the show are musically inclined, and we've seen several of them prove that more than once on the show. So it definitely worked out that Episode 18 titled "A Night to Remember" will focus on a high school musical version of a combination of the original Stephen King novel, the 1974 Carrie movie, the following 1988 Broadway show, the 2012 Broadway revival, and then the 2013 remake of the Carrie movie. I know, that's a lot to fit in with just one episode, but there has been enough buzz about the episode to show that there was likely plenty of hard work that went into creating it.
In the past, viewers have seen Josie and her Pussycats belt out a number of covers of hit songs, while Archie had a previously huge focus on music. Veronica has sung with the Pussycats a few times and even (for some reason) at her confirmation ceremony in church. Then there was the whole Betty singing "Mad World" scene that still has some unanswered questions to it. But since we all know that much of the cast can sing, you'd better believe that they're going to be doing so in the Carrie musical on Riverdale.
According to Entertainment Weekly, not just the stars of the musical within the episode are going to garner attention, though. Apparently Kevin, who will be directing the musical, will be doing so with Fangs by his side. And since they so obviously seem like they're soon to be a thing, that just gives viewers more to look forward to when the episode debuts on Wednesday, April 18.
Check out Romper's new video series, Romper's Doula Diaries:
Watch full episodes of Romper's Doula Diaries on Facebook Watch.