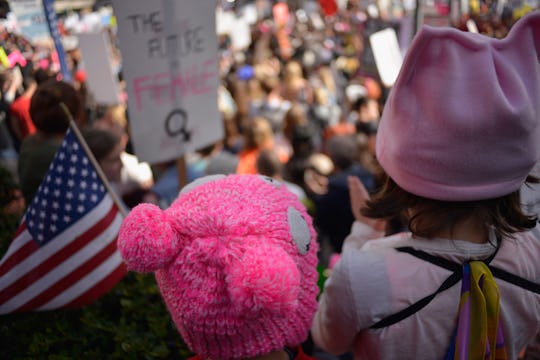 Chelsea Guglielmino/Getty Images Entertainment/Getty Images
Here's What You Need To Know About The 2018 Women's March In Houston
Politics is totally depressing these days, but knowing that women are organizing marches again on the anniversary of the 2017 Women's March cheers me up. If you need to feel all of that goodness again and are in Texas, I am pleased to report that the 2018 Women's March in Houston is happening this weekend, so you better get out your poster board and markers out and get your signs ready.
The official website for the sister march notes that people will be gathering at the Buffalo Bayou Waterworks Building at 9:30 a.m. local time on Saturday, Jan. 20. The march will begin a half hour later at 10 a.m. and everyone will head to City Hall. The organizers write that the Houston police department will guide the crowd along the route, towards City Hall, where the rally will take place. The organizers write that "Kam from the Suffers [a Houston band], DJ Gracie, and more to inspire a progressive wave of action" will be there to entertain the marchers. And inspire them to get out and vote.
Last year's march was more of a direct response to the election of President Donald Trump and took place the day after his inauguration. This year, all of the Women's Marches in every city will be focused on getting people out to vote in the 2018 midterm elections in an effort to flip Congress, as The New York Times reported.
The organizers explained their mission on the website:
The 2018 elections are crucial for the future of our nation. We must elect progressive leaders in Austin and DC. If the Houston region generates a massive progressive wave during the primaries and in the general election, we change Texas. If we change Texas, we change America. The power is in your hands!
With abortion rights, immigration reform, and so many important issues at stake in D.C., the country could definitely use some more progressive minds in Texas. And Texas women and allies seem to want that, too. In 2017, 20,000 people showed up to the Houston march, according to Chron. Mayor Sylvester Turner, State Rep. Gene Wu and U.S. Rep. Al Green all spoke at the rally and called it the "biggest crowd ever."
The Houston crowd might seem small compared to other cities like D.C., New York City, or even Chicago, which at one point had to urge other protestors to stop showing up because of a bottleneck that law enforcement deemed unsafe. But the city only started just a week before the event and the Facebook page only had 5,000 responses. Other cities had been planning their march since the day after the election, so 20,000 people is pretty impressive.
Seriously, any turnout at all is necessary and worth getting excited about. At the time, march organizer Star Massing told ABC 13, "This crowd is amazing. We expected a few hundred people when we planned this, and it has grown and grown and grown. We had 10 women working 24/7 to get this done, and it came through."
In addition to the marches on Jan. 20, the Women's March organizers are holding a "Power To The Polls" event on Sunday, Jan. 21, in Las Vegas. Tamika Mallory, one of the co-organizers of the national Women's Movement said in a statement:
Women's March has created a powerful movement that has ignited thousands of activists and new leaders. In 2018, we must turn our work into action ahead of the midterms. This new initiative will address voter registration and voter suppression head on. We marched for justice in DC, we created our plan in Detroit and now we're bringing the power of the polls to Nevada.
At all the marches this year, there will be an increased presence to register people to vote. Although the mission has been tweaked, hopefully the enthusiasm is the same as last year. Because it feels good to do something, like peacefully protesting, no matter where you are.
Check out Romper's new video series, Romper's Doula Diaries:
Watch full episodes of Romper's Doula Diaries on Facebook Watch.