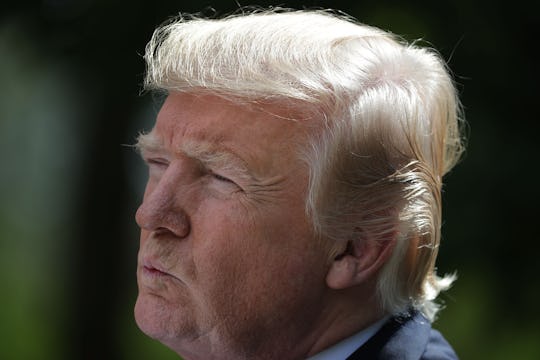 Chip Somodevilla/Getty Images News/Getty Images
Is Trump Allowed To Ban Transgender People From The Military? He Allegedly Spoke With Generals
As has become the norm with the President of the United States, America awoke to tweets from President Trump that are shaking up the country. On Wednesday, Trump took to Twitter to ban transgender individuals from joining the United States military. But is Trump allowed to ban transgender people from the military?
In a series of tweets, three to be exact, Trump definitely thinks he has the power to do so. The president tweeted "After consultation with my Generals and military experts, please be advised that the United States Government will not accept or allow transgender individuals to serve in any capacity in the U.S. Military. Our military must be focused on decisive and overwhelming victory and cannot be burdened with the tremendous medical costs and disruption that transgender in the military would entail. Thank you."
For one thing, it seems like a really informal way to make such a huge decision about our U.S. military, but how serious are these tweets? Is a "consultation with Generals and military experts" enough for Trump to enforce this ban?
According to CNN, Trumps decision to ban transgender individuals reverses a policy approved by President Obama before he left office, which was in final review. Defense Secretary James Mattis "announced last month that he was delaying enactment of the plan to begin allowing transgender individuals to join the US military," the CNN article reported.
The timing of this decision doesn't stop there. The Washington Post noted that these tweets were posted one day before the deadline for the military "to update its medical standards to accommodate transgender service members." In the previous policy approved by Obama, the military apparently had one full year to determine how to implement a policy that would make sure transgender individuals received medical care and ban the services that involuntarily separated military members that came out as transgender.
With Mattis' previous comments about delaying the enactment of Obama's policy, it's safe to assume that Trump actually is allowed to ban transgender people from the military. According to The Washington Post, Mattis released a statement just last month that read, "Since becoming the Secretary of Defense, I have emphasized that the Department of Defense must measure each policy decision against one critical standard: will the decision affect the readiness and lethality of the force? Put another way, how will the decision affect the ability of America's military to defend the nation? It is against this standard that I provide the following guidance on the way forward in accessing transgender individuals into the military services."
It's a really heartbreaking moment, regardless of whether Trump has full authority to make such a decision or not. It's only been a year since transgender individuals heard the good news that they could openly serve in the United States military and now, all of those dreams, hard work, and hope for being fully accepted in America are gone. According to the National Center for Transgender Equality, over 134,000 American veterans are transgender and over 15,000 trans people are currently serving in the United States military. That's nearly 150,000 people making sacrifices, literally putting their lives on the line, to protect a country that says they aren't worthy of the same rights as other citizens.
And after Trump's campaign promise that he would be an ally to the LGBT community, that's a huge blow.