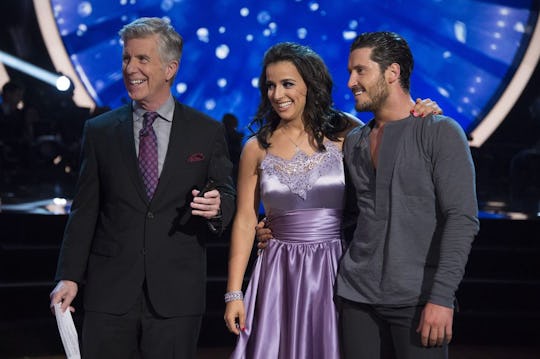 Eric McCandless/ABC
Victoria Arlen May Be Putting Her Love Life On The Back Burner For 'DWTS'
When you see teams on Dancing With the Stars who have chemistry both on and off the dance floor, you can't help but wonder if there's something more there or, at the very least, if the contestant is single outside of the show. Like with Victoria Arlen and pro partner Val Chmerkovskiy, who have an undeniable chemistry that seems so effortless. But since they're obviously not a couple, is Victoria Arlen single? The Dancing With the Stars contestant looks like she's currently unattached, but she has so many other things to keep her busy that a boyfriend probably may not fit in her life right now.
The former paralympic swimmer is not only a contestant on DWTS Season 25, but she's also a reporter for ESPN and covered the 2015 and 2017 Special Olympics World Games as well as the X Games and Invictus Games. She's also done work on College GameDay and the SEC Network's coverage of NCAA swimming and diving. Honestly, is there anything the woman can't do?
That being said, Arlen's schedule of dancing and covering events for ESPN likely keep her too busy for a boyfriend at the moment. Unless she's decided to keep that aspect of her life private (which would be totally understandable), there doesn't seem to be anyone special in Arlen's life right now.
She's definitely been putting in the hard work where the competition is concerned on DWTS this season. So maybe that's where most of her attention has been and I certainly don't fault her for it. So far, the lowest combined score that Arlen has earned was a 19/30, which was during the season premiere. On the first night of Week 2, Arlen and partner Chmerkovskiy left the ballroom floor with a 24/30, which is extremely impressive for not only Week 2 of the competition, but for someone who spent years prior to DWTS without the use of her legs.
At the 2012 Paralympic Games in London, Arlen won three silver medals and one gold medal as a paralympic swimmer and that was just the beginning her sports career, though the road there wasn't exactly easy for the DWTS contestant. At just 11 years old, Arlen slipped into a three-year-long coma and when she woke up, she was paralyzed from the waist down. But through what can only be described as the strongest perseverance ever, Arlen managed to learn to walk again after competing in the 2012 Paralympic Games. Basically, the woman is a straight up superhero.
The only mention of Arlen having a boyfriend was in a 2012 ABC News article about her autoimmune disease and being disqualified from future paralympic sports since her paralyzation was deemed to be non-permanent. In the article, it was mentioned that Arlen decided to spend time in California with her boyfriend and mother to clear her head over the disqualification. But since then, on social media and otherwise, there doesn't seem to be any mention of Arlen dating anyone.
At just 23 years old and already so accomplished, there's certainly no pressure for Arlen to be in a relationship and if she is indeed single, that just means she has more time to totally own everything she does, like reporting for ESPN or competing on DWTS Season 25. Like I said, the DWTS contestant obviously has a pretty full schedule with enough things keeping her busy in the best way, so having a romantic relationship probably just isn't a priority for her right now. And I can totally get behind that for the inspirational athlete.
Watch Romper's new video series, Romper's Doula Diaries:
Check out the entire Romper's Doula Diaries series and other videos on Facebook and the Bustle app across Apple TV, Roku, and Amazon Fire TV.