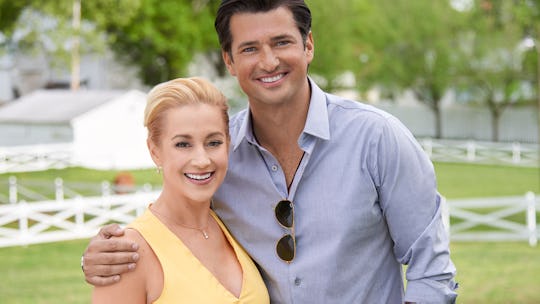 Katherine Bomboy/Crown Media United States LLC
The 'Wedding At Graceland' Crew Celebrated Real-Life Love In This Very Big Way
Ready or not, wedding season is here! And what better way to celebrate than with Hallmark Channel's June Weddings lineup? Kicking off the event on Jun. 1 is the premiere of Wedding at Graceland, the highly anticipated sequel to the holiday hit, Christmas at Graceland. But is Wedding at Graceland based on a true story? While the movie was shot on location at Elvis Presley's historical home, the Hallmark Channel film may not have any real-life inspirations.
Like its predecessor, Wedding at Graceland is an original movie. The teleplay was written by Gregg Rossen, Brian Sawyer, and Duane Poole, who are all pros when it comes to Hallmark Channel classics like Christmas Connection, A Gingerbread Romance, and Royally Ever After. So while the Wedding at Graceland isn't based on true events, it's safe to say the writers know what they're doing when it comes to feel-good romance.
That being said, there was a real wedding that happened while filming Wedding at Graceland. Although the Hallmark Channel film will feature Kellie Pickler and Wes Brown, it was Wedding at Graceland production supervisor, Julie Lightly, and production coordinator, Trey Fox, who walked down the aisle. Only this time, it wasn't in front of cameras. Instead, the couple celebrated their nuptials in front of their family, friends, and coworkers.
"The Hallmark movies always have a perfect ending," Trey's mother, Beverly Fox, told Commercial Appeal. "So this sounded like an excellent place to have a wedding."
According to a press release courtesy of Hallmark Channel, in Wedding at Graceland, Pickler and Brown will reprise their roles as Laurel Couper and Clay Sheppard, the couple who rekindled their old flame in Christmas at Graceland. With the blessing of Laurel's daughter, Emma, Clay proposes and they agree that the perfect place for the wedding is the Chapel at Graceland.
Now, with just three weeks to plan their dream wedding, the pressure is on as both sets of in-laws-to-be differ in every way imaginable, from personality to ideas for the wedding. Can everyone manage to get along or will Clay and Laurel be pushed to a breaking point? Viewers will just have to wait and see how the drama unfolds.
Nonetheless, there are more surprises to come than just Laurel and Clay's love story. Seeing as Wedding at Graceland is held in the King of Rock and Roll's Memphis home, it's only fitting that the film contains a few Elvis-related Easter eggs. In the Hallmark Channel press release, the network shared that the movie will be filled with popular Elvis songs, including a special performance by country music star Lee Brice. Priscilla Presley, Elvis' former wife, will also be making a brief guest appearance in the film — as if you needed another reason to get excited.
June gloom might be more real than Wedding at Graceland, but don't you worry about a thing. Hallmark Channel has your back with a love-filled story that will surely brighten up your Saturday night with Elvis classics and a familiar cast.
Wedding at Graceland airs Jun. 1 at 8 p.m. ET on Hallmark Channel.