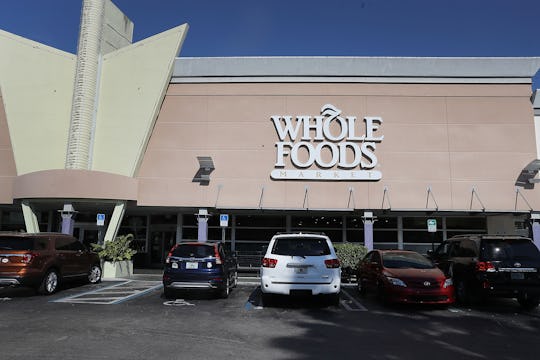 Joe Raedle/Getty Images News/Getty Images
Here Are Whole Foods' Christmas Day Hours So You Can Prepare Accordingly
Customer service, retail, and food service can be very tiring, stressful, and thankless jobs sometimes. Most employees at these places are expected to work nights, weekends, and even holidays, while most of us are at home relaxing. While it's obviously important for places like hospitals, police precincts, fire departments, and airlines to be open on Christmas, is it necessary for grocery stores to stay open? While a lot of people try to plan ahead, sometimes things are out of your control — like burning the Christmas ham. If you're wondering, is Whole Foods open on Christmas Day, so you can grab another free-range, grass-fed, "humanely slaughtered" ham to replace the one you burned in the oven, you're not alone.
Unfortunately for us, but thankfully for their hard-working hourly employees, Whole Foods will be closed on Christmas Day, and will be open with limited hours on Christmas Eve, with the hours depending on your specific location. But what about your $15 jar of almond butter? And those nuts you can buy in bulk for your pecan pie? Oh, God, what about the delicious green smoothies made in-house, so you can drink them while you shop? And the amazing and awe-inspiring cheese counter? And the sushi, who can forget the sushi? The lovely people preparing these nuts, cheeses, and sushi, and blending our green smoothies deserve to spend time with their families and friends on Christmas Day, just like you and I get to do. And let's face it, we can make those smoothies at home if we really needed to — but who wants to be healthy on Christmas Day? Pass the hot chocolate, please.
And while you won't be able to grab another Christmas ham that day, you can still get essentials, like coffee, from Starbucks and your local big-chain pharmacy, who should have bags of coffee beans for your sanity. Your local big-chain pharmacy will also have batteries for that new toy Santa brought, in case he forgot to put them in the toy already. And thankfully, the movie theater is open if you need to get away from racist Uncle Bob, or need something to eat since you burned the ham. Popcorn, candy, and soda for a holiday dinner? Sounds good to me.
Or you can always head out for Chinese food on Christmas Day to eat their version of a Christmas turkey. But thank you to these businesses and especially the employees who work there for staying open so I can get out of the house for "fresh air," or grab some coffee if I run out.
As annoyed as I would feel on Christmas day if I burned the ham or forgot vanilla extract for my cheesecake, I am happy Whole Foods and other big companies are closing for their employees to be with their friends and families on Christmas Day. Especially because you know the people making the big bucks at corporate are most certainly at their homes with their families while their hourly employees are stuck working. As someone who has worked in retail for many years over my lifetime, I think it's important for everyone to have worked a year in the service industry, whether it's retail, hospitality, or a restaurant, so they can understand and appreciate the hard work a lot of these people do to make our lives a little bit easier. So fingers crossed you didn't forget anything on your grocery lists for Christmas dinner, and you don't burn the ham. I also hope you like popcorn or Chinese food. And of course, there's always Waffle House.
Check out Romper's new video series, Romper's Doula Diaries:
Watch full episodes of Romper's Doula Diaries on Facebook Watch.