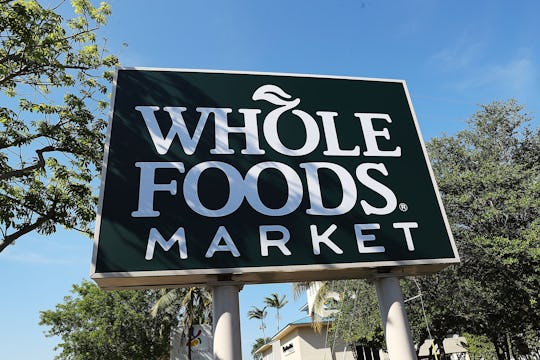 Joe Raedle/Getty Images News/Getty Images
Yes, Whole Foods Will Be Open On Easter, But Not With Their Normal Sunday Hours
Whether you're cooking an Easter feast for a big crowd or just making a typical Sunday dinner, it's always good to know if your go-to supermarket is open. Many shops close on big holidays (Thanksgiving, Christmas, New Year's) so they can give their employees a chance to celebrate with their families and friends, but is Easter one of them? Even if you're just ordering in, it's helpful to know if Whole Foods is open on Easter Sunday 2018, because you just might need a last minute treat.
Relax! You can count on Whole Foods to be open on Easter so there's no need to freak out and worry that you don't have what you need. A phone call to their corporate headquarters determined most of the stores are open but many will close by 4 p.m. The Corporate care specialist suggested to Romper that our readers call first or to go on the Whole Foods website to make sure if their local Whole Foods is open and the hours they will be observing. Now that you know this, you can totally procrastinate on your meal planning.
With Whole Foods anything's possible for Easter dinner or post-church brunch. If you're a planner, go over to their website and find the recipes for everything from Marinated Feta Cheese with Fresh Lemon and Herbs to Carrot-Ginger Soup to Carrot and Roasted Horseradish Cod with Red Potatoes and Lemon. If you're planning on making a more traditional Easter dish, head over to the butcher and pick up some lamb or ham. You can find ingredients to bake your own desserts or take the much easier route and shop the yummy pre-made pastries in their bakery. If you forget something, you can always run back and get it, but don't wait until the last minute as the stores are closing early.
Don't want to cook at all? They of course have a catering option, but you need to order 48 hours in advance, so hurry! You can order an entire Easter feast in-store or online, from appetizers to entrees to desserts. You don't have to worry about drying out the ham or overcooking the veggies and you especially don't have to try to juggle taking care of the kiddies with cooking.
Your whole focus on Easter Sunday can then be on bathing the kids and wrestling the them into their Easter finest, and making sure that your relatives are getting along.
Whole Foods is good for more than just meal planning. If you leave your entire holiday planning till Sunday, you're still okay. Last-minute Easter basket fillers can wake up a little early (most stores open at 7 a.m.) and grab some chocolates and other candies. Want to dye eggs? You can choose from regular eggs and organic, grain fed ones to get the job done. Go to the baking aisle and locate the food coloring, or some veggies and spices to color eggs using natural ingredients. Grab some croissants and their whole wheat pancake mix and head home to make some breakfast.
With Whole Foods now partnering with Amazon, you don't even need to leave your house to shop. Order online and it'll come right to your door. This isn't yet available in all neighborhoods, but it's worth going to the Whole Foods on Amazon shop and plugging in your zip code to see. The site guarantees delivery from your local store two hours after you order. Do not count on this for Easter Day, though. If you think you want to use the service, your best bet is to call your local store and make sure they are delivering through Amazon Prime on Easter Sunday, and that they're not backed up on orders.
While Whole Foods can be a little pricey at times, the convenience of their prepared foods coupled with the fact that they are actually open on Easter Sunday, could make them your go-to place this weekend.
Check out Romper's new video series, Bearing The Motherload, where disagreeing parents from different sides of an issue sit down with a mediator and talk about how to support (and not judge) each other's parenting perspectives. New episodes air Mondays on Facebook.