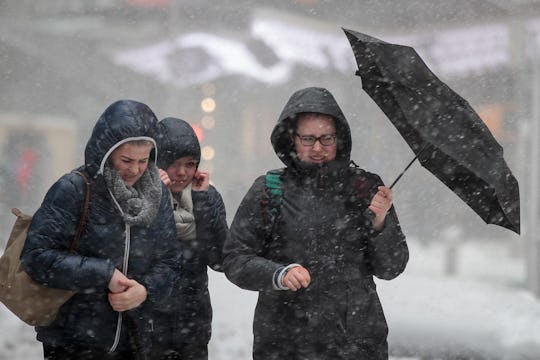 Drew Angerer/Getty Images News/Getty Images
Is Winter Storm Stella As Bad As Predicted?
After much sound and fury by meteorologists, Winter Storm Stella has finally arrived in all her glory, spewing snow across the mid-Atlantic East Coast and New England. But is Winter Storm Stella as bad as predicted? Successfully predicting the weather is nothing short of magic, even with the most advanced weather data available, because Mother Nature likes to throw surprises every now and then. And, as it turns out, Winter Storm Stella underwent a major change in the early hours of Tuesday morning that meteorologists didn't expect — the rain-snow line moved farther north — which means that while Stella's snowy wrath will end up with a lot less snow, the storm is still just as dangerous and powerful.
While snowfall totals have been downgraded across the mid-Atlantic and New England, Winter Storm Stella is still set to whip around some frightening blizzard condition winds across several states Tuesday. I've been hearing the wind howl down my street for much of the morning, and I'm at the upper reaches of Stella, just north of Boston. As for snowfall, my town has gotten a glorified dusting — but that doesn't mean that other areas won't get some significant snowfall. While snowfall totals appear to be down across the board, there are still several cities forecasted to get up to two feet of snow over the course of the day Tuesday.
Just because Stella won't be dumping snow all over the place, doesn't mean that travel conditions are hunky dory out there. Slush, freezing rain, and ice are being reported across the Northeast, making road conditions dicey. On Twitter, New York Gov. Andrew Cuomo has advised that motorists should stay off the roads at all costs until the storm has blown over, a winter storm travel warning shared by Massachusetts Gov. Charlie Baker on Monday night. Meanwhile, most of Interstate 91 is closed in Connecticut, a major thoroughfare across the state.
If you're planning on flying anywhere out of or into the eastern half of the United States, yeah — probably not going to happen. According to Flight Aware, more than 6,000 flights have been canceled on Tuesday, with nearly 3,000 additional flights delayed due to Winter Storm Stella. Several major airports — including those in Baltimore, Boston, D.C., New York, and Philly — won't reopen until midday Wednesday.
Even though French toast threat levels were at their highest Monday night, it looks as though most folks have woken up to a winter storm dud Tuesday morning. True, there will be less snow to shovel, but the overall downgrade doesn't mean that Stella won't pass through without making a lot of potentially damaging windy noise before she heads back out to sea.
In short: Enjoy the freebie day off if you got it, but still be careful out there.