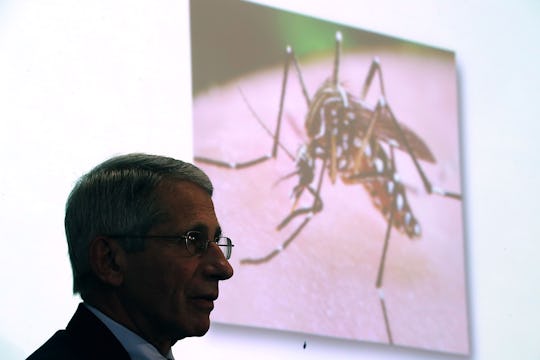 Chip Somodevilla/Getty Images News/Getty Images
Is Zika In Ireland Or Northern Ireland? Fewer Than 5 Cases Have Been Reported
Fears of contracting the Zika virus, especially among pregnant women worried about passing it on to their unborn babies, has permeated South and Central American countries since 2015. Locally transmitted cases of the mosquito-borne illness have even manifested in Florida since August, and now Zika is in Northern Ireland too, further illustrating the potentially global reach of the health emergency. The country's Public Health Agency confirmed that there have been a handful of travel-related Zika cases in Northern Ireland since last year, but that — and this is the good news — the vector mosquito is not present in the United Kingdom at all.
According to the BBC, fewer than five people in Northern Ireland have been treated for Zika since last year, with one case happening just last week. The Public Health Agency declined to confirm exactly how many cases there have been to avoid identifying patients, but reported that each of the people in infected had traveled outside of Northern Ireland. Zika can be be passed from person to person through sexual contact, but they're much more likely to catch it from a bite from the Aedes aegypti and Aedes albopictus species of mosquito.
And this prospect is especially scary for pregnant mothers, because Zika's effects on newborn babies is uniquely devastating. According to Scientific America, Zika can cause microcephaly, a severe brain defect that causes both physical and cognitive developmental delays, as well as a slew of other birth defects.
On Wednesday, The Guardian reported that it's still not clear where the Zika cases in Nothern Ireland originated. And in speaking with The Irish Times, a Public Health Agency spokesperson would not comment on whether any of the cases were associated with travel to Brazil, where the Olympic Games took place last month. In that country, widely recognized as the epicenter of the Zika outbreak, a whopping 1,800 babies have been born with microcephaly, although the World Health Organization reported in early September that there had been no reported Zika cases during the Olympics in Rio, according to The New York Times.
Ahead of the Olympics, one prominent Irish golfer did, in fact, cite Zika fears when backing out of the Games. The fourth ranked golfer in the world, Rory McIlroy, released a statement saying that his family and that of his family was more important to him than competing, according to ESPN.
After much thought and deliberation, I have decided to withdraw my name from consideration for this summer's Olympic Games in Rio de Janeiro. After speaking with those closest to me, I've come to realise that my health and my family's health comes before anything else.
Even though the risk of infection from the Zika virus is considered low, it is a risk nonetheless and a risk I am unwilling to take. I trust the Irish people will understand my decision. The unwavering support I receive every time I compete in a golf tournament at home or abroad means the world to me. I will continue to endeavour to make my fans and fans of golf proud with my play on the course and my actions off it.
Although effects of Zika in adults can be very serious, the most common outcome is that they have mild or even no symptoms. The United Kingdom is relatively safe, though: The Irish Times reported that there have been 117 cases of the illness there since last year, and that most were contracted from mosquitoes, likely when a person was traveling. A much smaller number of those were sexually transmitted.
One of the reasons that Zika is such an insidious threat is that there is no known vaccine or treatment for it. That could change relatively soon, though, as there are a few vaccines being tested in the United States and Puerto right now. In the meantime, it's imperative that people in infected areas do everything they can to prevent mosquito bites and the spread of the illness.