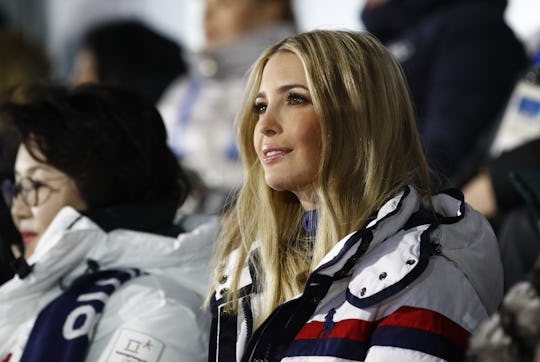 Pool/Getty Images News/Getty Images
Ivanka Trump Was Asked If Teachers Should Be Armed & Her Answer Was BS
Since assuming the role of advisor to the president (aka favorite daughter to the president), Ivanka Trump has seriously kicked her PR training up a notch. She's mastered the eye roll-inducing art of giving a vague "both sides" answer when asked pretty much any controversial question, whether it's about her father's sexual misconduct allegations, feminism, or gun safety. She proved the latter during a visit to PyeongChang for the Winter Olympics this week. Ivanka Trump shared her thoughts regarding arming teachers in the wake of the Parkland shooting — and people are unsurprisingly dissatisfied with her remarks.
"You're a mom of three young children. Do you believe that arming teachers would make children safer?" NBC correspondent Peter Alexander asked Ivanka.
"To be honest, I don't know," she responded at first. "Obviously, there would have to be an incredibly high standard for who would be able to bear arms in our school," she continued. "But I think there is no one solution to creating safety."
"You advising your dad on this? Do you advise him on other topics?" Alexander asked her.
"I think that having a teacher who is armed, who cares deeply about her students or his students and who is capable and qualified to bear arms is not a bad idea, but it is an idea that needs to be discussed," she said.
According to several studies cited by Vox, arming teachers is not the ideal solution — and in fact, could lead to even more gun violence in schools.
People on Twitter had a lot to say about Ivanka's comments.
Donald Trump proposed the idea of arming educators to prevent gun violence in the wake of the Feb. 14 Parkland shooting, in which an armed gunman opened fire on Marjory Stoneman Douglas High School in Parkland, Florida. Trump shared his thoughts on the matter at the Conservative Political Action Conference last week, according to CNN, telling the crowd that "well-trained, gun-adept teachers and coaches" should carry guns at school. "I mean, I don't want to have a hundred guards with rifles standing all over the school," he explained. "You do a concealed carry permit. This would be a major deterrent, because these people are inherently cowards."
He further emphasized his thoughts in a tweet on Saturday, adding that the teachers who would be armed would be trained and get a yearly bonus, and that the decision would be up to the states. "Armed Educators (and trusted people who work within a school) love our students and will protect the. Very smart people," he tweeted. "Must be firearms adept & have annual training. Should get yearly bonus. Shootings will not happen again - a big & very inexpensive deterrent. Up to States."
Trump, members of his administration, and other conservatives seem to be focused on the idea of arming teachers as a way of distracting people from the clear solution: instilling stricter gun safety regulations. Since the shooting, many people have risen up to demand better gun safety laws, including a group of Marjory Stoneman Douglas High School students who survived the shooting. They are organizing the upcoming March For Our Lives, a nationwide march spearheaded in Washington, D.C., in order to clearly demand better gun safety laws.
Instead of arming teachers, some have suggested putting better security in our nation's schools. Andrew Pollack, whose daughter Meadow Jade Pollack was killed in the shooting, directly asked Trump about this in a "listening session" the president held for families and friends of victims. "Let's get together, work with the president, and fix the schools. That's it. No other discussions," Pollack told Trump in the meeting. "Security, whatever we have to do. Get the right people, the consultants ... These are our commodities. I'm never gonna see my kid again."
It is a shame that Ivanka Trump fails to see why arming teachers is not the right solution, because she potentially holds the power to change her father's mind on topics like this.
Check out Romper's new video series, Bearing The Motherload, where disagreeing parents from different sides of an issue sit down with a mediator and talk about how to support (and not judge) each other's parenting perspectives. New episodes air Mondays on Facebook.