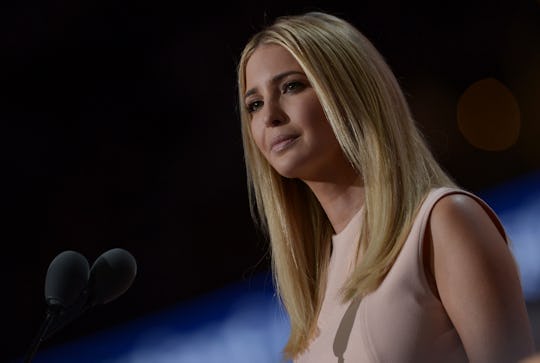 BRENDAN SMIALOWSKI/AFP/Getty Images
Ivanka Trump's New Motherhood Ad Is An Attempt To Help Her Father Win Over Women Voters
With Election Day just around the corner, Donald Trump's campaign team has made another attempt to win over women voters — a new televised campaign ad starring Ivanka Trump speaking about motherhood and describing what her father plans to do for working mothers and their families. In the 30 second ad, the Republican nominee's oldest daughter speaks directly into the camera and addresses a few of Donald Trump's proposed policies important to women and families, such as child-care tax credits, paid maternity leave, and subsidies for stay-at-home parents.
"The most important job any woman can have is being a mother, and it shouldn't mean taking a pay cut," Ivanka Trump says in the ad, which was released on Friday.
She continues, "Donald Trump understands the needs of a modern workforce. My father will change outdated labor laws so that they support women and American families. He will provide tax credits for child care, paid maternity leave and dependent care savings accounts. This will allow women to support their families and further their careers."
Over the course of the election, the 34-year-old mother of three small children has become the face of many of the GOP nominee's attempts to gain support from women voters, including this most recent appeal:
This very carefully produced ad shows pictures and footage of the Trump Organization executive playing with her children — daughter Arabella and sons Joseph and Theodore — along with past footage of the Republican candidate interacting with women in various settings and several attention-grabbing quotes appearing over her voice.
The Washington Post reported that the ad is planned to run nationwide next week in "battleground states on cable networks with large female audiences, such as Lifetime, Bravo, TLC, and OWN (the Oprah Winfrey Network), as well as on network prime-time shows including Dancing With The Stars, Grey's Anatomy, How To Get Away With Murder, Madam Secretary, and The Voice." The ad's airtime reportedly cost $7.5 million.
The timing for the ad is opportune, as it comes just a week after examples of the Republican candidate's long history of misogyny surfaced at the first presidential debate on Monday after his rival Hillary Clinton tore into him on stage.
Viewers and voters were reminded that Trump once said that pregnancy was an inconvenience and of the time when he fat-shamed Alicia Machado, a former Miss Universe, and called her "Miss Housekeeping" because of her Hispanic heritage.
As of September, Time reported that more women voters still favor Hillary Clinton. Although this latest ad is an illusory attempt to tip the scale in her opponent's favor, there still isn't much time left before Nov. 8 for the Trump campaign to convince more women to join their team.