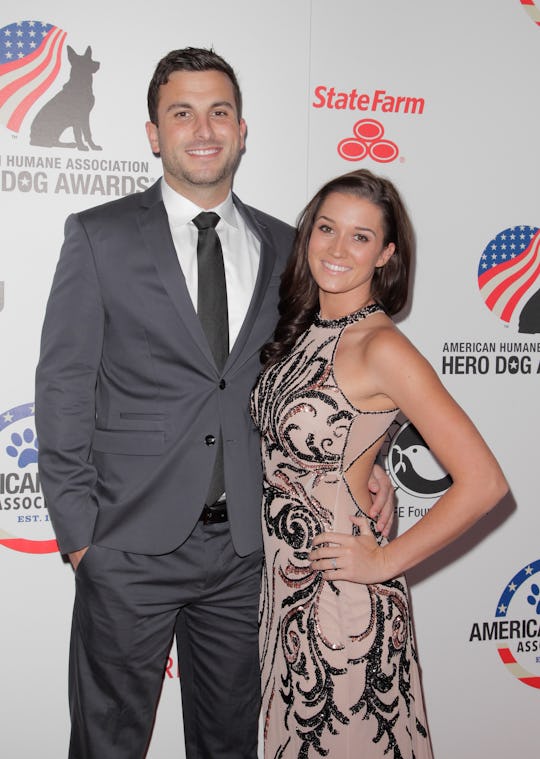 Tibrina Hobson/Getty Images Entertainment/Getty Images
Jade Roper Tolbert Got Real About #MomLife In This Hilariously Honest Instagram Post
Being a mom is just about the most glamorous job you can have if you don't count literally every other thing a person can do in the universe. It has its moments, of course, especially when your kid gets a little older and does something noteworthy and you get to smile modestly while taking all the credit. But mostly it's a whole lot of bodily fluids and an end to privacy for about three years or so. Don't believe me? Jade Roper Tolbert's Instagram post from the toilet seat is what you potential moms out there can expect to become your new normal.
The Bachelor In Paradise alum is mom to 9-month-old daughter Emerson Avery with husband Tanner Tolbert. Since the birth of her little girl, Tolbert has become well known for her lovely Instagram feed full of happy breastfeeding photos and sunshiney play dates with her adorable daughter. The two of them are pretty much always having a jolly good time, whether they are looking up in wonder at a sun-dappled lilac tree or playing on the beach or out for a stylish afternoon at the Metropolitan Museum. So yes, she's making motherhood look glamorous most days.
But she's also aware that this is probably not the most accurate representation of life with a baby; hence her most recent Instagram post that captured her perched on a toilet seat with her daughter in her lap.
If my life has been looking too glamorous on Instagram lately, just know 4 out of 5 times this is how I use the bathroom. 😆🙈Just a friendly reminder of my real life.
This pic is probably my favorite thing I've seen on Tolbert's Instagram. Because I totally get the desire to fill your social media with beautiful pictures of your family to scroll through later, to give the sense that things are always pretty perfect in your world. So sharing a picture of yourself sitting on the toilet with your baby on your lap as she is clearly reaching for the toilet paper roll to wreak havoc takes a special kind of mom.
This isn't the first time for the former reality star got real about her life as a mom; back in February the podcast host shared a seriously hilarious "sharting" incident of her daughter's on her Instagram Story. There she was, enjoying a little bite to eat and watching her daughter have a nice moment of tummy time when this happened, according to her Instagram video:
So I was eating my lunch, and Emerson was doing tummy time, and I heard a nice big shart. And.... here it is, this is what happens when your baby poops during tummy time!
Apparently Tolbert had just begun to introduce solid foods to her then 5-month-old daughter and it was causing something of a splash. Like, the kind that gets all over the front of your baby's clean sleeper. And to make matters worse, Tolbert said in the video that her dog used that moment to eat the rest of her sandwich. Now that's just tragic.
Jade Roper Tolbert didn't have to share her post from the toilet seat to give fans a real sense of what her life looks like, and I really hope she didn't do it because she felt pressure to get real or whatever. But truthfully? This is the kind of thing that makes other moms from other toilet seats breathe a sigh of relief. Probably while scrolling through their social media feeds with one hand and holding a baby with the other. Motherhood; it's not glamorous. But mostly, it's pretty rad.