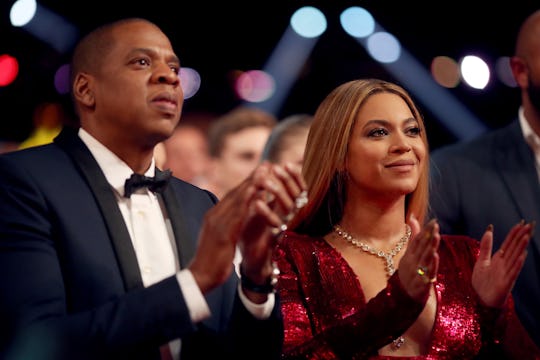 Christopher Polk/Getty Images Entertainment/Getty Images
James Baldwin's Quote At The Beginning Of JAY-Z's "Family Feud" Is A Must-Read
JAY-Z's highly anticipated music video for "Family Feud" dropped at 4:44 p.m. on Friday afternoon, causing the inevitable social media frenzy. While the video is sure to be dissected and analyzed by the masses for days, if not months, to come, the start of the video has left fans asking themselves, "Who is James Baldwin?" The music video begins with a powerful quote from the American novelist and social critic, so trust me when I say: he's a man everyone should know. And if you don't know him, well, it's time to learn, dear reader.
According to Biography.com, James Baldwin was "an essayist, playwright and novelist regarded as a highly insightful, iconic writer with works like The Fire Next Time and Another Country." Born in New York City on August 2, 1924, Baldwin was the author of the 1953 novel Go Tell It on the Mountain, a "semi-autobiographical novel about a savvy teenager in 1930s Harlem, and his relationship to his family and his church."
Baldwin was born to a single mother, and never knew his biological father. His story is mirrored in the story of his protagonist, and later Baldwin reportedly said, "Mountain is the book I had to write if I was ever going to write anything else. I had to deal with what hurt me most. I had to deal, above all, with my father," according to Biography.com. Baldwin is also quoted by The New York Times as saying, "Once I found myself on the other side of the ocean, I see where I came from very clearly... I am the grandson of a slave, and I am a writer. I must deal with both," when asked about the topics of his writing, mainly his personal life and racial background. Baldwin went on to gain astounding acclaim for his moving, powerful insights on spirituality, humanity, and race.
And while Baldwin died on December 1, 1987, it is that work, and his willingness to publicly write about such personal, important, complex topics that has made him an iconic literary man and social commentator, long after his death. It is also, arguably, why JAY-Z chose to quote him at the beginning of his video for "Family Feud." The quote JAY-Z chose reads as follows:
The wretched of the earth do not decide to become extinct, they resolve, on the contrary, to multiple: life is their weapon against life, life is all that they have.
Baldwin is, arguably, talking about the disenfranchised people of this world, and most certainly black people, who've been called "wretched," among many other disgusting names, by their oppressors for years upon years. And yet it is life — the willingness to celebrate it, conceive it, bring it into the world, and nurture it — that protects the oppressed from their oppressors. And it just so happens that JAY-Z and Beyoncé Knowles-Carter recently welcomed twins earlier this year, named Rumi and Sir. And of course, in addition to Blue Ivy, their 5-year-old daughter, who was featured in the video (and among countless celebrities, including Omari Hardwick, Jessica Chastain, Michael B. Jordan, Thandie Newton, Trevante Rhodes, Emayatzy Corinealdi, David Oyelowo, America Ferrera, Storm Reid, Brie Larson, Rosario Dawson, Rashida Jones, Mindy Kaling, Constance Wu, Niecy Nash, Susan Kelechi Watson, and obviously, Beyoncé Knowles Carter).
The aforementioned celebrities are, probably, going to be the focus of many, but it's Baldwin's words, and his work, that should take a front seat. Clearly not only has this literary revolutionary inspired generations upon generations of people, but he has influenced JAY-Z in a way that allows him to create poignant work at a time when black voices need to be elevated more than ever.
And at a time of much fear and distress, it's important we all, collectively and as a society, know our history and those that chose to stand defiant of the status quo. After all, it was also Baldwin that's quoted as saying, "Know from when you came. If you know whence you came, there are absolutely no limitations to where you can go."
Check out Romper's new video series, Romper's Doula Diaries:
Watch full episodes of Romper's Doula Diaries on Facebook Watch.