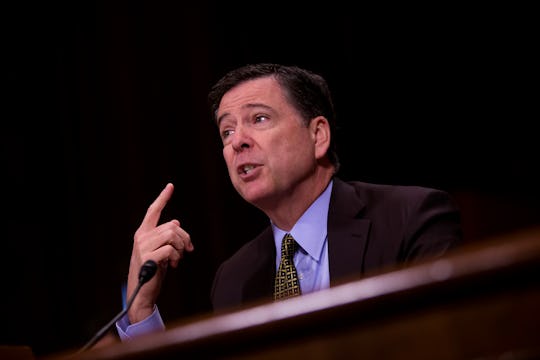 Eric Thayer/Getty Images News/Getty Images
James Comey Testimony Memes Are Coming In Droves
On Thursday, former FBI Director James Comey took the stand to testify in an open session before the Senate Intelligence Committee to answer questions about President Donald Trump and the federal investigation into his campaign and administration's alleged ties with Russia during the U.S. election. Luckily for Twitter, the session is being live-streamed, which means there are plenty of Comey testimony memes that shows the internet has been waiting impatiently for this day. Let the games begin.
Ever since Comey released memos claiming Trump asked him to let the investigation into then-national security adviser Michael Flynn's Russian ties go, the American public has been anxiously waiting to hear more about this potentially incriminating conversation. Now that the moment has finally arrived, Twitter is pulling out all the stops to make the most of Comey's testimony. Comey's session with the Senate Intelligence Committee is essentially the Super Bowl for those who've been paying close attention to Trump's ongoing saga with Russia. Given all the political turmoil America has been through lately, these memes offer a fun distraction to all the drama. It goes without saying that Twitter is giving its all with these memes — the mood can only be described as extra. This is Twitter's magnum opus, and it's as fabulous as you'd expect.
Take a look at some of the best Comey testimony memes below:
Obviously, there aren't enough memes in the world to illustrate just how ready Americans are for this testimony. Although it has only been seven months since Trump was elected, it often feels like seven years, especially when you consider all the supposed shenanigans with Russia and repeated government gaffes. Not to mention Trump's daily Twitter tirades have all but withered the patience of Americans just trying to get through a news day without any added drama from the president. In short, Twitter already had a lot of material to work with on Thursday.
What's especially great about these memes is that they present a certain feeling of togetherness and community in spite of all the political strife. It's clear a lot of Americans are all on the same page with just how unbelievable this situation is, and it's a bit heartwarming to see Twitter rejoicing in the Comey testimony with amazing memes. The memes are so great, in fact, that they'll probably overshadow Trump's eventual Twitter tirade on the testimony. The Comey memes are not only hilarious, but they're important.