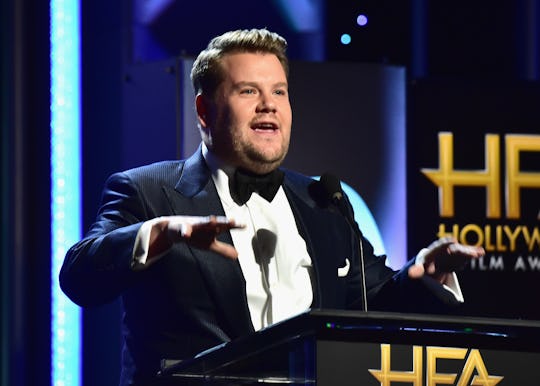 Frazer Harrison/Getty Images Entertainment/Getty Images
James Corden Named His Baby Beyoncé, But It's Not What You Think
Greatness starts with a name, right? Maybe that's why late night host James Corden named his baby Beyoncé for a second after she was born this week. Well, either he was subconsciously setting his youngest up for greatness or he did it because he's totally, unabashedly, earnestly obsessed with the real Bey. And that once again shined through when Corden told the story in his opening monologue on The Late Late Show Thursday, just days after his wife, Julia Carey, gave birth to the couple's third child. And, no, they won't actually be naming her after the superstar — although they haven't settled on a better idea yet, either.
Corden officially announced his daughter's arrival on Twitter Tuesday, before singer Harry Styles and actor Bryan Cranston would cover his hosting duties for him that night and the next, respectively. So, perhaps knowing that there would be some serious star power in his seat made him dream of there being more in the family, too, resulting in the brief moment when his daughter was Beyoncé. Here's how it went down, as he shared Thursday:
After the baby was born, anyone who's been in this situation will know, we were both crying, I was crying my eyes out, my wife's crying her eyes out, the baby's crying and the doctor asked about her name and I don't know why I said it and I looked at the doctor and said, "We're going to call her Beyoncé." My wife did not think that was funny.
But of course Corden couldn't actually go through with it, as epic as that would have been. In addition to the fact that Carey was no fan of the off-the-cuff plan, Corden said in the monologue that he ultimately had to tell the nurse, who had actually started filling out the birth certificate, not to do so because "There's only one Beyoncé." So, for now, this little girl, who joins older brother Max, 6, and older sister Carey, 3, doesn't have a name. Her parents just haven't settled on one, and she came a couple weeks early.
Still, whatever the reason behind the impromptu, temporary naming of his child, any Corden fan wouldn't be surprised that his instinct was to bestow Queen B's name on his child. He is, after all, a diehard fan. In March 2016, he said in an interview with Entertainment Weekly that he really wanted Prince, Bruno Mars, and Beyoncé to be on his CBS show's signature segment, Carpool Karaoke. Prince, sadly, died the next month and Mars made his Carpool Karaoke appearance that December, so Beyoncé is still No. 1 on the list. On Vogue's 73 Questions segment that June, he revealed that the one celebrity on his Carpool Karaoke "dream list" was, you guessed it, Beyoncé.
And when Bey release the HBO special Lemonade last year, Corden lovingly parodied it for his show, calling his spoofy version of the masterpiece Lemonjames:
Luckily for Corden, all that stanning finally paid off in early 2017, when he hosted the Grammys. In an interview with Entertainment Tonight, he shared that the two met by chance in an otherwise empty hallway after a rehearsal prior to the big event. "It was lovely. It was really nice," Corden said when he recalled the moment. "She was amazing."
Yes, Beyoncé is amazing, which is why it's totally understandable that some part of Corden wanted to name his child after her. But maybe it would be a little weird, considering the fact that his daughter and Bey's baby twins are similar in age, and, hey, maybe one day they'll be friends.