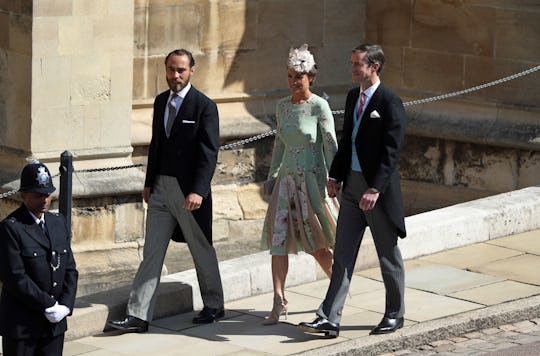 WPA Pool/Getty Images Entertainment/Getty Images
Twitter Is So Thirsty For Bearded James Middleton At The Royal Wedding
Every wedding needs a secret hero, and Twitter has already chosen a particularly dashing one for the royal wedding of Prince Harry and Meghan Markle. There are loads of options, of course, and plenty of star power with your George Clooneys and such. But it seems once James Middleton arrived at the royal wedding, Twitter got pretty thirsty pretty quick.
James Middleton is the brother of the Duchess of Cambridge, Kate Middleton, and the world's most famous maid of honor, Pippa Matthews. Middleton arrived at the royal wedding of Prince Harry and Meghan Markle alongside his sister Pippa and her husband of one year, financier James Matthews. While Pippa became something of an internet sensation at the 2011 wedding of Prince William, Duke of Cambridge and Catherine, Duchess of Cambridge, simply by looking stunning in her maid of honor dress. OK yes, let's all admit it, people were mostly excited about the look of her behind at the wedding. But this time around, Pippa (while still looking extra gorgeous in her tasteful fascinator and dress combo) was eclipsed by her brother, James Middleton. Looking sort of dangerous and rough around the edges in a *good* way in his morning suit, Twitter took something of a pause in their royal wedding speculation to watch James Middleton and say.. wait, what?
So what do we know about James Middleton, other than the fact that he might be almost as beautiful as his two super beautiful sisters and he likes to stare into the camera with deeply smoldering eyes?
Well, if you thought you loved Kate Middleton's younger brother before... get ready to fall hard. Because he's not just a pretty face, guys, he's reportedly an intensely protective brother. Back when Kate Middleton was dating Prince William, her little brother James was so protective he reportedly used to go out of his way to shield her from negative press. As the 31-year-old told The Daily Mail:
I used to be first up in the morning to make sure I could get to the papers and rip out any stories about my sister, so nobody would see them and there would be no conversations about them.
The only son of Carole and Michael Middleton runs a company tailor-made for making women fall in love with him, or this particular woman right here, at any rate; the Cake Kit Company. According to the company's website, the whole idea behind starting the business was to simplify home baking:
In our kits we supply everything you need, all ready measured out for you to bake and decorate your cake; disposable baking trays, premium quality cake mix, ready-to-roll fondant coloured icings, decorations, cakeboard, candles, and a step-by-step guide.
So not only is James beautiful, he's also in the cake business. How much do you love him now?
Now I don't want to start a big competition here. I'm not trying to say that James, with his swarthy beard and slicked back hair and handsomeness exploding out all over the place, is going to steal the show from Prince Harry. He is the groom, after all, and just about as adorable as a person can be.
But let's just say that James Middleton provided a pretty beautiful distraction for those of us who were getting antsy waiting for the royal wedding to begin. A little fantasy, if you will. I'm not saying what kind of fantasy, because a person has to have some sort of decorum here. Let's simply say that Twitter enjoyed a James Middleton moment on Saturday. And so did I.