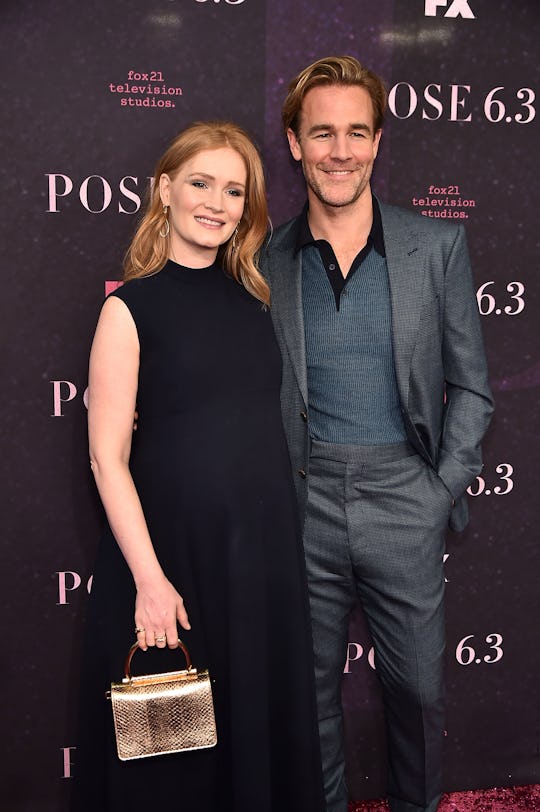 Theo Wargo/Getty Images Entertainment/Getty Images
James Van Der Beek's Family Christmas Photo Is All Of Us Trying For A Decent Pic
Most of us probably associate actor James Van Der Beek with the late '90s/early 2000s hit show Dawson's Creek. (Or perhaps How I Met Your Mother?) But a lucky few have discovered the gold mine that is Van Der Beek's Instagram account. Because his parenting posts are always spot-on. And honestly, James Van Der Beek's adorable family Christmas photo is every parent trying to get a decent holiday pic.
In case you haven't kept up the the actor's personal life, Van Der Beek and his wife, Kimberly, currently have five children together — ranging in age between 6 months and 7 years old. On Friday, Dec. 7, Van Der Beek took to Instagram to share a sweet family photo of his brood picking out a Christmas tree. "Only one kid tried to defect while attempting to take this pic... Not bad," the father of five captioned his post. "Swipe through carousel for the process."
Let's critically analyze the main photo, shall we? First off, every single child is looking at the camera — which is a huge feat. I mean, there are five kids, and they're all fairly young. Parents with two or more children know this alone is a seriously big deal. (And I'm pretty sure the odds decrease exponentially with each additional child.) Furthermore, they're all dressed adorably and no one is crying. This is definitely a family Christmas photo win, in my book.
Now, James Van Der Beek could have shared this precious shot alone on Instagram, and followers likely would have swooned. But instead, the Dawson's Creek alum decided to give fans a glimpse of exactly what it took to achieve such a perfect family photo. And it's real AF.
If you click through to his actual Instagram post and then keep scrolling through the series of shots, you'll see the little girl in the magenta hat gradually disappear from the shot — and hide behind a Christmas tree. Eventually, Van Der Beek's daughter appears in the shot, albeit with her father holding her this time. (Probably so she doesn't try to make another escape.) Although she isn't crying in the shot, you can tell she isn't particularly happy about holding still for a family photo either. The amount of parenting solidarity I feel for Van Der Beek can be summed up with this Katniss GIF.
As People reported, Van Der Beek and his wife welcomed their fifth child — a daughter they named Gwendolyn — back in June. Their newest bundle joined big siblings: Olivia, 7, Joshua, 6, Annabel, 4, and Emilia, 2.. The actor announced the pregnancy in February, while also acknowledging his large family was a bit outside of the norm. "Some people are probably wondering if we're out of our minds," he wrote on Instagram, according to the publication. "Which we might very well be… but I couldn't be more excited. Or grateful. Or in awe of @vanderkimberly."
As a mom of three — and soon to be four next month — I can totally relate to James Van Der Beek's honest post about the process of achieving that perfect family photo. (Believe me, I've been there plenty of times myself.) It's comforting to know that even celebrities don't take amazing family photos on the first try. Perhaps more parents should be willing to show the behind-the-scenes events leading up to that perfect family portrait. Because not only is it real, it's entertaining AF.
This first-time mom wants to have a home birth, but is she ready? Watch how a doula supports a military mom who's determined to have a home birth in Episode One of Romper's Doula Diaries, Season Two, below. Visit Bustle Digital Group's YouTube page for the next three episodes, launching Mondays in December.