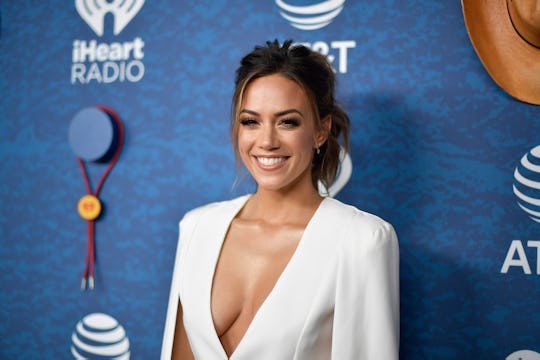 Matt Winkelmeyer/Getty Images Entertainment/Getty Images
Jana Kramer Is Pregnant With A Rainbow Baby, & Fans Are So Excited
After a rollercoaster of unsuccessful pregnancy attempts, Jana Kramer is finally pregnant with her "rainbow baby." In an interview to announce the happy news, the One Tree Hill actress and country singer opened up about the rough road to getting pregnant with what will be her second child, the tool that she thinks helped her, and how excited she is for her new baby's arrival.
Kramer, who shares daughter Jolie Rae with her husband, former NFL player Mike Caussin, announced the thrilling news on Instagram on Monday. She posted an adorable family photo with her husband and daughter, posing next to a sign that read, "Only child, expiring November 2018."
"Surprise! We have a rainbow baby on the way & couldn't be more excited!" Kramer captioned the photo. "Jolie is going to be a big sister & we're becoming a family of 4! Thanks @avawomen for helping us get pregnant by telling me my 5 most fertile days!"
For the uninitiated, a rainbow baby is a baby born shortly following the loss of another baby; it's a reference to the idea that a rainbow often appears after a storm, according to The Bump. And Kramer has had a lot of experience with loss. In an exclusive interview with People on Monday, Kramer said: "We lost in October and then we did an IVF cycle and we lost in February, so I want to be able to be like, 'Hey, I know it's hard but just try to have some hope.'"
This was the first time Kramer opened up about trying in vitro fertilization, but she previously shared the news of her October miscarriage (and news of another loss before that) in a December 2017 Instagram post, writing:
This unfortunately isn't my first loss. When I first found out I was pregnant I wanted to shout it from the rooftop but I know for reasons like this we have to wait. So because we don't tell many, we have to suffer silently...and suffering silently was my thing in the past, but it's not now.
As mentioned in her Instagram post, Kramer used the Ava bracelet to track her fertility and help her conceive. The Ava is a bracelet, worn while sleeping every night, that lets you know when you are about to start ovulating, its website explains. Kramer explained that before the bracelet, she did not know she ovulated late. She told People:
I didn't know I ovulated late and I don't know if it's because my cycles are messed up because of my miscarriages, but it said I ovulated on the sixteenth or seventeenth day so that's what we trusted and I got pregnant.
Most people ovulate on around the 14th day of their cycle; however, the Ava helped Kramer discover that she ovulates several days later than that, which she thinks helped her to get pregnant.
And while Kramer told People she is "so excited" to be pregnant, she also told the magazine she is experiencing terrible morning sickness, much like she did while pregnant with Jolie. "I was in bed for like six weeks straight," she told People. "I felt like I was just doing such a bad job as a mom because Jolie's super active right now."
Back in 2016, when Kramer was carrying Jolie, she had severe morning sickness throughout her pregnancy. She told Fit Pregnancy and Baby in an interview at the time:
People were calling my management, telling them I was drunk because I was throwing up before and after shows! ... I'm one of the ones who has [morning sickness] for all of her pregnancy.
Because of her rocky path to a second pregnancy, many fans commented on Kramer's Instagram announcement to congratulate her. "Congrats that is awesome! We are expecting our rainbow baby in October. We lost our baby not long before you announced your loss. Such an amazing and scary feeling. Wishing you a happy healthy pregnancy," one fan commented. "After hearing your podcast about invitro and seeing this today I am so happy for you and your family girl you guys deserve the best," another fan wrote. (Kramer hosts a podcast called Whine Down with Jana Kramer.) "Congratulations y'all. So excited for you Jana. I know how badly you've wanted this," one other fan wrote.
Kramer is clearly overjoyed to finally be expecting again, and it's so exciting that her family will be growing by one this coming November!